KIPP Baltimore Student Awarded SGFF College Scholarship
5/11/2018, 6 a.m.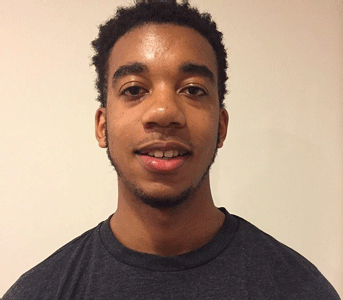 BALTIMORE — KIPP and the Sheryl Sandberg and Dave Goldberg Family Foundation (SGFF) have announced that Baltimore high school senior Joshua Fitzgerald has been selected as a recipient of the 2018 Dave Goldberg Scholarship. Joshua is among 30 students who were selected from nearly 350 applicants nationwide to be part of this inaugural cohort of Goldberg Scholars.
The Goldberg Scholarship Program was established by the SGFF in October 2017 to support KIPP graduating high school seniors across the country who have demonstrated remarkable leadership and achievement. The scholarship honors the legacy of Dave Goldberg by supporting a new generation of leaders who embody Dave's qualities of leadership, resilience, achievement, generosity, kindness, independent thinking and entrepreneurial spirit.
As a Goldberg Scholar, Joshua will receive a unique combination of financial support and mentoring during his four-year college experience, which include: a mentor to provide ongoing support throughout college; fFinancial support totaling approximately $15,000 a year to cover a range of non-tuition needs not traditionally covered by college-based financial aid; support from Goldberg Connectors to help secure summer internships and job opportunities; and participation in an annual Goldberg Scholars Summer Leadership Day, where scholars will meet leaders in their chosen fields.
"Our family is delighted to partner with KIPP to support a new generation of students who demonstrate so many of Dave's qualities— especially his kindness, unflagging drive, independent thinking and entrepreneurial spirit," said Sheryl Sandberg, Facebook COO and founder of LeanIn.Org and OptionB.Org. "Dave believed every child deserved a quality education. He would be so proud and hopeful to see the first class of Goldberg Scholars heading to college this fall."
The 30 recipients of the Goldberg Scholarship have attended KIPP schools in 14 communities. All of the recipients are students of color, and many will be the first in their families to attend college. Any student who attended a KIPP school for either middle or high school and had above a 3.0 GPA was eligible to apply for the Goldberg Scholarship. Joshua was chosen based on his academic record and demonstration of leadership.
"Dave was passionate about the power of ideas and connecting people to make the world better," said Rob Goldberg, Dave's brother and Founder and CEO of Fresno. "This scholarship brings those concepts to life in a way that would delight him, especially the focus on mentorship and building a community to support the students from the start of college through their first job."
An alumnus of KIPP Ujima Village Academy middle school and a current senior at Gilman High School in Baltimore, Joshua's leadership extends beyond the classroom and deep into his community. He is a member of Gilman's Black Awareness Club, a volunteer for the Baltimore Urban League, and a mentor for younger students at Boys Hope Girls Hope in Baltimore. In the fall, he will attend Tufts University, where he plans to major in engineering and continue to give back to help young people in Baltimore succeed.
"We have many talented alumni graduate from college each year, but they don't always have the same professional network as their higher-income peers," explains KIPP Baltimore Executive
Director Marsha Reeves. "The Goldberg Scholarship program gives Joshua access to mentors that will give him support throughout his college experience and truly accelerate his career. This partnership is a perfect example of KIPP taking college support to another level. We are so proud of Joshua, and excited to see where his leadership takes him."
SGFF selected the national KIPP (Knowledge Is Power Program) network of public charter schools as its partner for the Dave Goldberg Scholarship program because of KIPP's proven track record of helping students from educationally underserved communities develop the knowledge, skills, and character strengths necessary to succeed in college and life.