Annapolis-Born Rocket Scientist Simplifies Engineering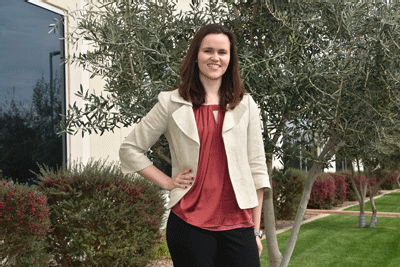 Rocket science has historically been considered difficult because the slightest mistake could wreck a multi-billion-dollar mission. But one Annapolis-born rocket scientist says, not everything is— well— rocket science.
"I think the thing is that it's sort of this mystery about rocket science. Almost a fear, really intense," said Monique Dalton, an electrical engineer, who is working on a new rocket in development by Orbital ATK, the global leader in aerospace and defense technologies.
"But, it's really not that complicated which is why I love doing STEM [Science, Technology, Engineering and Mathematics] events where we try and get kids interested," said Dalton, a graduate of the University of Maryland at College Park.
Dalton is part a team designing and building a new rocket called, OmegA.
As one of Orbital ATK's largest strategic investments, OmegA, will provide intermediate to heavy-class launch services for the Department of Defense, civil government and commercial customers.
With headquarters in Dulles, Virginia, the company delivers space, defense and aviation-related systems to customers around the world both as a prime contractor and as a merchant supplier. Its primary products include: launch vehicles and related propulsion systems; satellites and associated components and services; composite aerospace structures; tactical missiles, subsystems and defense electronics; and precision wea pons, armament systems and ammunition.
Dalton says the motivation that led to career as a rocket scientist comes from her mother and that drive continues to manifest itself through the work she performs.
"I have a role model in my mother who is a Hispanic computer engineer and she encouraged me from a young age to pursue my dreams," Dalton said. "I had that model to say, 'Yes, you can be a woman and succeed in the technical world.' Through this job, I can inspire young women and create all these new innovative solutions. It's really important in the workplace to have diversity and a diversity of ideas to create such solutions."
Because of her upbringing in historic Annapolis, Dalton says she always felt the need to be challenged. The naval academy in Annapolis and the overall sophistication of the city's residents helped to inspire confidence.
"Now, I'm working on the OmegA rocket and it's an exciting thing for us," Dalton said. "One of the great things is that it has launched national security payloads [or, freight] for the Air Force and it also has science and commercial payloads so you're able to think about what sorts of things it includes and not only the idea of launching something into space but launching something that's a protection for our nation which also makes it patriotic."
Volunteer work is also a major part of Dalton's life, she said.
"I found that I have been able to resonate with people here at Orbital ATK because there are a lot of STEM and STEAM [Science, Technology, Engineering, Arts, Mathematics] events
including an event in Arizona where we have 24 booths dedicated to science," she said.
For Dalton, it's also important that young people understand that rocket science isn't as daunting as many believe.
"When you break it down, you really get an understanding of it all," she said. "If we can't break it down to explain it to elementary school children, then there must be something that we don't understand."