Conservation Organizations, Green Street Academy Students Plant Pollinator Garden
5/18/2018, 6 a.m.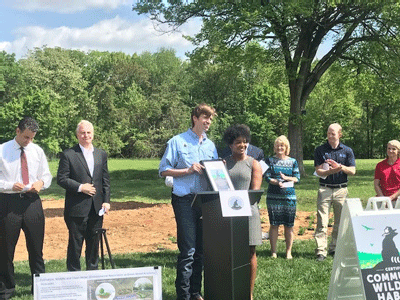 BALTIMORE — The National Wildlife Federation (NWF), National Aquarium, Blue Water Baltimore and Maryland officials planted a 5,000 sq. ft. pollinator garden with students and staff at Green Street Academy on Friday, May 11, 2018. The native plant garden will provide vital habitat for Baltimore's iconic orioles, other local birds, bees and butterflies.
"Together with our many partners, we are working to create a cleaner, greener Baltimore," said Collin O'Mara, president and CEO of NWF. "Establishing wildlife-friendly habitat across Baltimore, like Green Street Academy is doing today, is good for everyone, from families who will breathe cleaner air and enjoy cleaner water to wildlife that will have more places to thrive. These spaces also benefit kids in our current era of electronic overload helping them enjoy greater connections with nature, more time outdoors and safer places to play."
The Green Street Academy pollinator meadow will serve as an outdoor learning laboratory, where students can experience the wonder of monarch butterfly metamorphosis and discover how to help pollinators thrive. These backyard gardens and green spaces also help improve water quality by reducing polluted stormwater runoff going into the Baltimore Harbor and the Chesapeake Bay.
"Among the many invaluable assets of our City and region is the access we enjoy to the Chesapeake Bay and the diverse wildlife that we have an obligation to protect," said Mayor Catherine E. Pugh. "We're so honored, to be designated as a Community Wildlife Habitat, a result of the tireless work of our partners at the National Wildlife Federation, the National Aquarium and schools such as Green Street Academy, which is committed to enhancing student appreciation for our rich natural resources. With this designation, we accept our responsibility to increase our efforts to protect our natural world, even while we pledge our continued efforts to make Baltimore cleaner, greener and safer for all our residents."
At the event, Baltimore City received official certification as the largest Community Wildlife Habitat™ in the Chesapeake Bay watershed.
"Marylanders know the value of the Chesapeake Bay, and that Baltimore plays a critical role in the overall Chesapeake Bay restoration effort. That's why I am tremendously proud that Baltimore City is now the largest Community Wildlife Habitat in the Chesapeake Bay watershed," said U.S. Senator Ben Cardin, a senior member of the Senate Committee on Environment and Public Works. "When we create new green spaces, we help waterways, provide educational opportunities and build communities. I applaud the National Aquarium, National Wildlife Federation and the diverse array of other partners who have combined their efforts to help make such success possible, both in Baltimore and beyond."
"I'm excited to join the National Wildlife Federation and the National Aquarium as well as their partners, Baltimore City and Green Street Academy, to recognize the city's certification as the largest Community Wildlife Habitat in the Chesapeake Bay Watershed," said Senator Chris Van Hollen. "This recognition highlights Baltimore's success in creating community green spaces and wildlife habitats and in promoting sustainability. These efforts ultimately support a healthy Bay, healthy communities, and a healthy economy in Maryland."