Conservation Organizations, Green Street Academy Students Plant Pollinator Garden
5/18/2018, 6 a.m.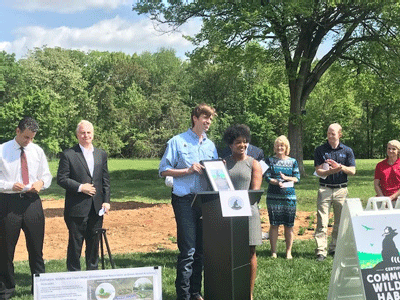 continued — NWF's Community Wildlife Habitat program empowers citizen leaders to take action for wildlife in their communities and provide habitat where people live, work, learn, play, and worship. In Baltimore, NWF has certified more than 500 homes, community spaces, schools and other educational centers. Each certified site uses sustainable gardening practices and provides the four basic elements that all wildlife need to survive: shelter, food, a water source and places to raise young, such as a flower bed or shrub.
"Baltimore's new certification as the largest Community Wildlife Habitat in the Chesapeake Bay Watershed underscores the city's environmental leadership," said Congressman John Sarbanes, who co-chairs the Chesapeake Bay Task Force in the U.S. House of Representatives. "As a prime example of our city's deep commitment to the environment, look no further than Green Street Academy's pollinator garden, which provides our students with hands-on outdoor learning experiences, instills a sense of environmental stewardship in the next generation and makes a lasting and meaningful impact on Bay health."
Heavily developed, metropolitan areas such as Baltimore are home to two-thirds of all North American species of wildlife and contain valuable habitat in the form of local parks and open spaces that support both year-round and migratory wildlife.
Green Street Academy is located within the Gwynns Falls watershed of the Bay where NWF is working to create a network of wildlife habitat on school grounds. The new garden is one of several large-scale stormwater best management practices NWF is developing with the school. This work complements the existing environmental projects at the school, including installing a solar array and a greenhouse.