Oakland Museum of California Hip Hop Exhibit Recognizes Art Form as Cultural Juggernaut
Nadine Matthews | 5/18/2018, 6 a.m.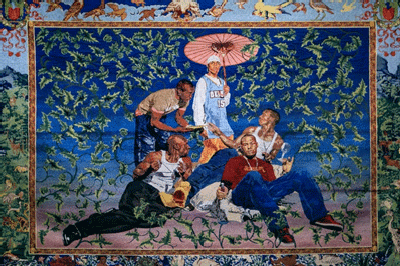 Founder of Hip Hop Chess Federation, Adisa Banjoko was hit by what he calls a "euphoric wave" as he stood next to rapper Reza from Wu Tang Clan in 2014.
"Reza's been a longtime supporter of our organization," he explained.
"I was," Banjoko shared, "invited by the World Chess Hall of Fame to help them do an exhibit on hip hop and chess, which is something they had up until that time not even really known about or explored."
Banjoko's organization teaches children life skills using the principles of chess, hip hop, and martial arts. On that Saturday morning, as he and Reza stood side by side watching the lines for the hip hop exhibit snake around corners, he was overcome.
"When the feeling passed, I said, 'this will be much more amazing when we do it in Oakland,'" Banjoko said.
When he got back home, the Oakland native approached his old friend Rene de Guzman, Senior Curator of Art at the Oakland Museum of California about creating a similar exhibit.
De Guzman passed but Banjoko was persistent and approached him again about two years later. De Guzman then fully grasped Banjoko's vision.
He said, "Adisa's approach was to look to hip hop as a life strategy and how it connects to all sorts of other ways youth, in particular, can think about their lives strategically. We thought that was great and actually [a] necessary way to look at hip-hop. Most people think of it as commercial rap."
Hip-hop, from its beginnings in a Bronx recreation center in 1973, has always been about more than beats and samples and MC's. It has always been about expressing and reflecting the rhythms of life itself. It has always been about the personal, the political and everything in between.
The collaboration between Banjoko and de Guzman came to fruition with the recent unveiling of the sprawling exhibition "RESPECT: Hip-Hop Style & Wisdom," at the Oakland Museum of California which runs through August 12, 2018. They decided to name the exhibition as such because the now 45 year-old art form and cultural juggernaut appears to be finally coming into its own. "Hip hop has arrived. Mainstream institutions are talking about it. There's a hip hop section in the new African-American Museum in D.C.; Harvard and Cornell have hip hop archives and collections. The Kennedy Center has a hip hop program. The folks who were around when hip hop was created are now leaders and influencers and even policy makers."
Oakland California is the area where the Black Panther movement, boldly asserting the right of African-Americans to have equal economic, social and political power, was born.
Oakland is also strongly associated with one of the central tenets of hip hop ethos— bootstrapping.
"The Bay Area fostered the idea of independence and entrepreneurism. There's this classic story of rapper Too Short who when he was growing up, no major music label signed hip hop artists let alone hip hop artists from Oakland. He made and then sold his music directly to people from the trunk of his car. It proved you didn't have to rely on major corporate interests to be successful," explained de Guzman.