Longtime dentist Dr. Lawrence Bell Jr. dies at 77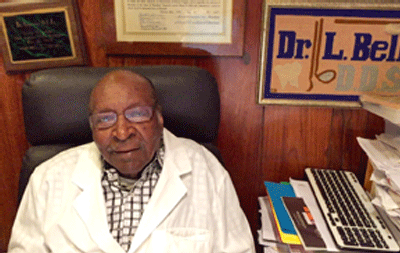 BALTIMORE — He was the immaculately dressed dentist with the warm smile. He was the giving dentist who would give of his services even when people didn't have the money to pay. He was the dentist who mentored countless aspiring dentists. He was the dentist with the familiar practice at 3326 Auchentoroly Terrace. He was Dr. Lawrence Bell, Jr., and on Friday, May 18, 2018, the legendary dentist passed away. According to family, the 77-year-old died after a lengthy illness.
Funeral services for Dr. Bell will take place Friday, May 25, 2018 at the United House of Prayer for All People, 3401 Edgewood Road in Baltimore. The viewing will take place from 4 p.m. until 8 p.m. Services will take place on Saturday, May 26, 2018. The wake will begin at 10 a.m., with the funeral starting at 11 a.m.
Dr. Bell was born in Baltimore, and graduated from Frederick Douglass High School in 1960. He became the first in his family to attend college, attending Morgan State College (now Morgan State University), where he pursued a degree in biology. It was there that he met Elinor Willis, his wife of 57 years, whom he married in 1961. They had two sons, Lawrence Bell III, followed by another son, Marshall Bell.
The eldest Bell is a former Baltimore City Council President. He reflected on his father's life.
"He was a trailblazer," said Bell. "He was my hero in many ways, and the ultimate father figure. My father was a scientist, but went back to school when the University of Maryland began to allow blacks to attend. That spoke of his resilience and tenacity."
Dr. Bell was among the first African-American students to graduate from the University of Maryland, School of Dentistry, receiving his Doctor of Dental Surgery degree in 1974. After a brief period practicing at the Provident Druid Health Clinic on West North Avenue, and at an office on Duvall Avenue with his friend, Dr. Willie Richardson, he opened his famed practice – The Bell Dental Center at the corner of Auchentoroly Terrace and Gwynns Falls Parkway, across from Druid Hill Park.
"He was really loved," said Bell. "Everywhere I went, people would say, 'You are Dr. Bell's son. How is he doing?' Several generations were patients of his, or knew someone who was a patient of his. He was down to earth and never lost the common touch. He was a very generous man and always helped people who didn't have the means. He discounted services so much, that sometimes he didn't make anything."
He added, "He especially helped children, and those who were down and out. He never let a child in pain walk out of his dental office."
According to Bell, his father practiced for 44 years.
"He saw his last patient just three months ago," said Bell. "The people he saw ran the spectrum. They included everyday people as well as prominent members of the community. His patients were a Who's Who of Baltimore. In his heyday, he probably saw as many people as any dentist in Baltimore City. He really cared about people and African American business."