Anne Arundel County Teen Jewelry Maker Showcases Products At Biz Kidz Event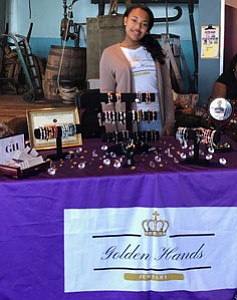 On Saturday, November 3, 2018, Biz Kidz Academy will hold a Market Day, Shark Tank Competition and Award Ceremony for business-minded girls and boys, ages five-18 at Long Reach High School, located at 6101 Old Dobbin Lane in Columbia, Md. from noon to 5 p.m.
Various items will be showcased by kidpreneurs during the event, including: paintings; self-published books; baked goods; slime; coloring books, hair products; soaps; scrubs; handmade clothes; jewelry and more. Business resources, workshops, games, entertainment and exhibits will also be available for attendees to enjoy.
Makayla Martin, age 14, will be among a group of youth competing for prizes and selling their products to the public.
The Anne Arundel County resident's love of jewelry making and entrepreneurship began by chance. After discovering the bead section at Michaels Craft Store, she took the initiative to experiment with combining various bead designs and colors, and the motivation to start a business sprouted. After all the pieces to a bigger plan aligned, Golden Hands Jewelry was established in 2017.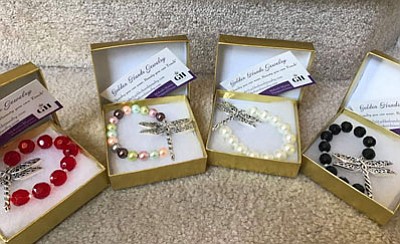 Although Makayla's primary costumers are women, she also creates products for men and children of all ages.
"At the competition, I will be selling my handmade bracelets. They are unique and one of a kind. I hope each bracelet will be a blessing to each customer's life," Makayla said, explaining why she is pursuing entrepreneurship. "I originally started my business because I wanted to make money. However, I did not think about all the opportunities I would receive with it. Now that I'm getting older and will be eligible to work for other businesses, I realized that if I keep going with my own thing I won't have to work for anyone else but myself."
The ambitious teenager juggles attending Annapolis Area Christian school, homework, playing volleyball, and having a business, all while attempting to maintain a social life. A planner helps her to visualize what each week looks like, since time is her biggest challenge. She embraces the priceless lessons that she is learning throughout her journey.
"I have learned how much I love the thought of independence and taking care of myself. If I had my own money, I wouldn't have to rely on anyone else," Makayla said. "On top of that, this (entrepreneurship) has taught me the value of money. I never want to waste it since I worked so hard to earn it."
Makayla's mother, Nicole King-Martin, serves as her daughter's marketing manager. She noted that Makayla has been a Girl Scout for ten years. She also participates in high school sports, drumming, church, speaking engagements and the Biz Kidz Academy.
"We are extremely proud of how she balances all of her extracurricular activities, and maintains a 3.8 GPA," King-Martin said.
While reflecting upon her daughter's climb to achieve the next level of success, King-Martin would like to see Makayla's handmade unique bracelets in one of her favorite department stores and/or specialty boutique. She added that Makayla can continue to encourage other young girl entrepreneurs to "turn their passion into action," as speaking engagements increase.