Anne Arundel County Teen Jewelry Maker Showcases Products At Biz Kidz Event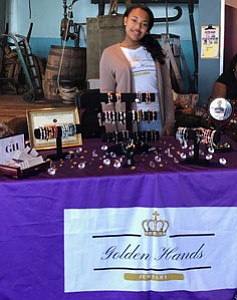 Makayla says that Dr. Marlene Jackson has helped her develop the right tools to continue pursuing more of her business-oriented hopes and dreams. Dr. Jackson is the co-founder of Biz Kidz Academy, a Christian-focused non-profit 501 (c) organization developed to empower kidpreneurs, ages five to 18.
"Dr. Jackson has shown me that I have potential to be something great, and she believes in each and every one of the kids that she has helped," Makalya said. "I am so grateful for her support. If I had not started Dr. Jackson's workshop, I don't think I would've taken my business as seriously as I do today. She taught us everything about owning a business, from a 30 second pitch down to writing your business plan."
Jackson further explained how much the program designed for young entrepreneurs has grown since it started— a Biz $tartup Kidz is a Public Access Comcast TV Series was created for and by savvy young entrepreneurs; a Biz Kidz workshop series is offered to kidpreneurs (ages eight to 18) in Atlanta, Georgia; and Biz Kidz will sponsor a one-day event in May next year in partnership with The Niagara Falls Public Library in Canada.
For more information about Makayla's business, visit: www.goldenhandsjewelry.com and to learn more about the upcoming Biz Kidz event, visit: www.bizkidz.us.