Concert At Cathedral Of Mary Our Queen To Benefit Education Programs
11/2/2018, 6 a.m.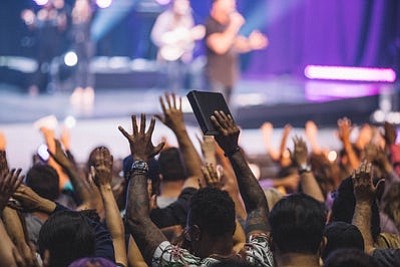 Music lovers from the Baltimore/Washington Metropolitan Area are invited to fill the Cathedral of Mary Our Queen on Sunday, November 11, 2018 at 4 p.m. for the ninth annual fall concert of the Community Concert Choir of Baltimore, Inc. (CCCB) Comprised of nearly 150 singers, the choir will feature a full concert of sacred music to culminate the church's 59th Homecoming celebration. Sponsored by the Delta Lambda Chapter of Alpha Phi Alpha Fraternity, Inc., the program supports educational activities programs for students in Baltimore area schools.
"I'm honored as both a member of Delta Lambda Chapter and director of the choir to celebrate the rich music of the African American Church tradition and to raise funds to uplift students across the Baltimore community." said Dr. Marco K. Merrick, founding director of the CCCB. "It's an honor also to have our signature concert in this magnificent cathedral. We continue musical excellence as these concerts attract massive audiences who love good music and value enabling positive opportunities for our children."
During the free concert, one of Baltimore's noted classically trained organists W. Patrick Alston, and pianist/music educator at Baltimore City College High School Marcus D. Smith will accompany the ecumenical choral aggregation. The concert entitled "His Truth is Marching On" includes selections from classical composers of anthems, Negro spirituals, hymns and traditional gospel songs. Also the Cardinal Shehan School Choir, a 50-voice chorus of boys and girls, will be featured during the program and will highlight the finale with the CCCB.
Founded in 2010, the CCCB has grown to nearly 200 members and has been called upon for performances around the state and in Washington, D.C. The choir crosses age, race, denomination and cultural barriers to embrace all who love to sing sacred music.
The concert is free and open to the public. Cathedral of Mary Our Queen is located at 5200 N. Charles (near Northern Parkway) Baltimore, MD 21210. A freewill offering will be received during the concert and a reception will be held for all following the concert.
For further information about the concert or to make a contribution, contact Delta Lambda Chapter at: www.DeltaLambda.org or call Marco K. Merrick at 410-294-2991 or email: marcomerrick@aol.com or visit the Community Concert Choir of Baltimore, Inc. website: www.cccbmore.org