Increased Role Could Be In Store For Ravens QB Lamar Jackson
Tyler Hamilton | 11/2/2018, 6 a.m.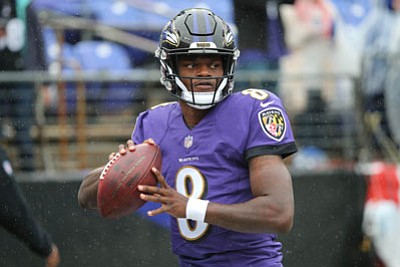 The Baltimore Ravens suffered another loss, this time it was the Carolina Panthers that beat them 36 - 21. The Ravens got a glimpse of how devastating a dual-threat quarterback can be, as Cam Newton was responsible for three of Carolina's four touchdowns.
Newton completed 21 of his 29 pass attempts, two of which were touchdowns. He also rushed for 51 yards and a score.
The Baltimore Ravens have a dual-threat quarterback of their own in Lamar Jackson. Jackson made the most of the snaps he played on Sunday. He completed four of his five pass attempts, including a 26-yard strike to fellow rookie Hayden Hurst.
The throw was the kind of anticipatory pass that shows that Jackson is getting comfortable on the football field. He released the ball before Hurst made his break inside on the post route. It was delivered with near perfect placement, making it easy for Hurst to make the catch.
"I'm trying to progress each and every week," Jackson said after the game.
Hurst is a 2018 first-round pick along with Jackson. The two were paired together to make many plays like their 26-yard touchdown in the future.
Their touchdown last week was the first of their career. Hurst hopes it's the first of many and was quick to compliment Jackson for seizing an opportunity to make a play.
"They vacated the area. Lamar saw it earlier in the drive and found me again this time in the end zone," Hurst said.
Jackson also chipped in with 26 yards on three carries. His 17-yard run was the longest run of the game for the Ravens. Jackson's 129 rushing yards are the second most on the team through eight games.
For the most part, Joe Flacco has been a solid player this season. However, after being intercepted twice by the Panthers and having a declining completion percentage over the last three weeks, Jackson may begin to see more opportunities to actually play quarterback rather than be on the field in a gimmick package.
The rookie's performance last week is certainly encouraging. Despite losing two games in a row, all is not lost. Baltimore is 4 - 4 and only one game out of first place in the AFC North.
They'll have a chance to right the ship against the Pittsburgh Steelers this week. Giving a dynamic player like Jackson more chances to make plays would add a jolt to the offense.