Actor Omar Epps Discusses Black Fatherhood At Summit In West Baltimore
Demetrius Dillard | 11/9/2018, 6 a.m.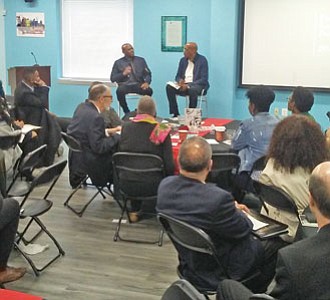 This year's "Building Capacity Creating Impact Summit," a conference hosted by the Center for Urban Families(CFUF), which focuses on workforce development, family strengthening and fatherhood, featured an exceptionally noteworthy guest whose recent work exhibits an insightful message with glaring relevance particularly in Baltimore's black community.
Award-winning actor Omar Epps was the speaker at the annual Practitioners Leadership Institute (PLI) summit on October 20, 2018 in West Baltimore.
PLI, an initiative of CFUF, is a social service and community-based organization focused on developing practitioners working in the fields of family strengthening, workforce development and fatherhood.
Epps, known for his roles in timeless cultural films including "Love and Basketball" and "Juice," was invited to discuss his new book, "From Fatherless to Fatherhood" and provide some valuable insight to local community members.
Epps' new written work is an in-depth memoir of his upbringing as a young black male without a father, and the obstacles he overcame to become a successful and an involved father of three children.
"I think a lot of us— men and women— can relate to growing up without a parent and the effects that [has] on you," Epps told the Baltimore Times. "Hopefully the book can be used as a tool of inspiration. And one of the main messages that I speak about is power of choice is always at our disposal. So it doesn't matter what choices a person makes, a man makes— even if he had gone astray from fatherhood, he can always make the choice to get back on track."
During the hour-long discussion, which was led by Joe Jones, the CEO and founder of CFUF, Epps covered a wide array of topics, from his navigation through the film industry, to life with his wife and three children, to various themes in his book, along with the journey of writing his book.
"I think my ultimate goal for writing this book 'Fatherless to Fatherhood' is trying to spark a change of narrative in our community," Epps said to the audience of about 30 in a conference room at the CFUF.
With eloquence, grace and poise, Epps also stressed the necessity for black fatherhood and the challenges associated with being a father.
The Brooklyn, New York, native spoke openly about the deep-seated resentment he once had toward his father, a man whom he says never made a concerted effort to establish any type of relationship with him. But instead of letting the bitterness cultivate and intensify, Epps says he used that negative energy as fuel to change the narrative, to become successful, and to start and raise a beautiful family— ultimately showing his father he "made a grave mistake."
A panel discussion addressing the current and changing funding landscape in Baltimore with some of the city's most noteworthy corporate and community-based philanthropists, including Maryland Senator-Elect Antonio Hayes, John Brothers with the T. Rowe Foundation and Tomi Hiers of the Annie Casey Foundation was also on the agenda.
The PLI Fellows (Boys and Men of Color Academy) were recognized and given awards during a networking brunch. The award recipients were comprised of grassroots leaders representing Baltimore's change agents who are working to support boys and men through programs offering mentoring, media, health and wellness, entrepreneurship, self-development and education.