Actor Omar Epps Discusses Black Fatherhood At Summit In West Baltimore
Demetrius Dillard | 11/9/2018, 6 a.m.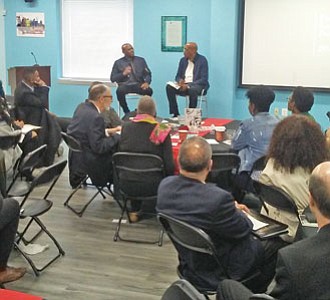 Jones says he brought Epps in because he felt the message conveyed in his book "From Fatherless to Fatherhood" was congruent to what he and his organization want to communicate to the Baltimore community.
"What we do here, programmatically, particularly around our fatherhood work, we're always looking for someone who has the experience and capacity to bring that message and to talk about it in a very authentic way," said Jones, a fatherhood program coordinator. "And, with Omar, he has a new book— so it's apropos for what we wanted to do. What we didn't anticipate is how authentic he would be, and how much he would resonate with the audience."
Epps brought his mother, Bonnie Maria Epps, whom he acknowledged as one of the most influential figures in his life.
"I wouldn't be here if it wasn't for my mom. I have an incredibly strong, loving mom who instilled a sense of self-worth in me at a very, very young age. And that's the one thing that's guided me through my life," Epps said.
At the end of the discussion, Epps answered questions from the audience and expressed sentiments of optimism. He also signed books and took pictures with conference attendees.