Remembering Ackneil M. Muldrow, II
11/9/2018, 6 a.m.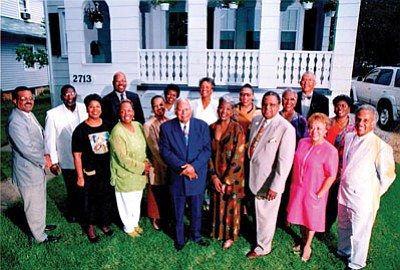 Muldrow's long and storied business career included serving as the president and Chief Executive Officer of the Development Credit Fund, Inc. Muldrow served as chief administrator of a $7.5 million loan pool formulated to provide low cost financial assistance to minority-owned businesses operating in the State of Maryland.
Muldrow retired from the Development Credit Fund in 2005, after serving for 22 years. During its existence, the f und lent nearly $40 million for working capital, equipment and machinery. Among its many other attributes for helping minority businesses, the Fund managed a $4.0 million Empowerment Zone revolving loan fund for the federally funded Empower Baltimore Management Corporation, the Baltimore City recipient of a $100 million U.S. Department of Housing and Community Development grant. During its existence, the Fund employed over $39 million in loans through the Fund.
Former Baltimore City Housing Commissioner Daniel Henson worked with Muldrow at the Development Credit Fund, where Henson served as Chairman of the Board. The two met through the Baltimore Marketing Association, an organization Muldrow led as President and CEO from 2003 until 2005.
"He was a Southern gentleman," Henson said of the Winston-Salem, N.C. native. "He had a Southern gentleman approach to everything . Even if he was mad, you wouldn't know because he would be smiling. Even though he had been in Baltimore most of his life, the North Carolina in him never left."
Henson is President of Henson Development Company, which develops distressed communities. He reflected on Muldrow's willingness to share information he felt would help others.
"I pulled up a bunch of personal emails his emails he sent to me," said Henson. "He loved to talk about and celebrate an entrepreneur who had gone on to greater things. These were people who he had helped, and he enjoyed talking about what they were doing now. He was proud of how they had taken off. He left a tremendous amount off successful businesspersons to celebrate his legacy."
Muldrow had served or was serving on numerous boards.
"Mr. Muldrow was our board chair and Bon Secours' biggest advocate and marketer," said Dr. Samuel Ross, Chief Executive Officer of Bon Secours Baltimore Health System. "He was a tireless champion for our mission and he was a tireless advocate for this community. He held us all accountable for addressing Women and Minority Business Enterprise initiatives and health inequities. He was a gentleman, a scholar, and an inspirational role model for servant leadership. He made a difference and will be missed."
Muldrow was not afraid to take a stand against injustice. In 1960, he was one of the first persons to participate in the Civil Rights sit-ins at Woolworth.
"I first knew Neil when he served as President of the Development Credit Fund," said Adrienne A. Jones, Speaker Pro Tem of the Maryland House of Delegates. "I found him to be extremely business savvy and both professional and personable . He had a great sense of humor and was willing to do the mundane to the magnificent in assisting others. He will be truly missed by all who knew him.