Rambling Rose: Music Series at Arch Social Club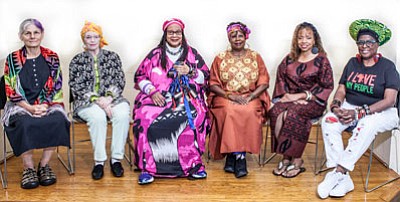 Hello everyone, hoping your weekend will be filled with joy and happiness. Free of stress and dumb stuff. It looks like the rain has taken a break so we can enjoy a little bit of entertainment.
To start off, I want you to join me at the beginning of a music series that aims to promote Black Music and how we express ourselves culturely through music. The first show in the series will be about blues and rhythm & blues. The second will be about Hip Hop and the third, about jazz. Sponsored by the Deutach Foundation is a Baltimore-based philanthropic organization that supports people in suppressed communities to enable them to express themselves culturally.
The first to kick off this fundraiser music series at Arch Social Club is a young lady named, Subria Lapps, a vocalist and songwriter from Toronto, Canada. She is known for her eclectic and soulful style and passionate approach. "Subria" currently resides in Baltimore and is a resident performer at Terra Café and Ida B's Café.
On Wednesday, October 10, 2018, "Disney on Ice" returns to Royal Farms Arena in Baltimore City. Alexander Allen from Fort Washington, Maryland is among the performers in the show.
My Eastern Star Chapter, Trinity Chapter No. 5 OES-PHA Maryland is having an "All Black Day Party" on Saturday, October 18, 2018 from 4 p.m. to 9 p.m. at the Most Worshipful Prince Hall Grand Lodge of Maryland in the Melvin M. Thorpe Fellowship Hall, 1307 Eutaw Place. The event includes BYOB, door prizes, vendors; basket of cheer, raffle and lite buffet. For tickets or more information; call Latoshia Taylor at 443-831-9148. I will see you there.
I want you to mark your calendar so you won't miss the "WMEL Radio Honors Legends of Soul and R&B Artists" on Sunday, October 14, 2018 from 5 p.m. to 10 p.m. at the American's Best Hotel, 6510 Frankford Avenue in Baltimore. The event will be hosted by musician and radio personality, Gamel "DJ Mel." Some of the artists being honored and making an appearance, include: Gerald Alston; Rena Scott; Lenny Williams; Chris Jasper the Jones Girls; and Skip Mahoney and many more.
The non-profit organization, The Howard E. Rollins Foundation, Inc. is hosting a celebration to continue Howard's legacy by awarding scholarships and providing cultural and educational programs in the performing or film media arts for aspiring minority and disadvantaged youth. Baltimore's own, Howard is best known for his work on the television show, "In the Heat of the Night." The event takes place on Saturday, October 6, 2018 from 8 p.m. to midnight at the Temple Oheb Shalom located at 7310 Park Heights Avenue in Pikesville, Maryland. Your ticket includes: dinner, free setups, door prizes, 50/50 raffle and vendors. It is also BYOB. For more information and tickets, call Kenneth Fields at 443-221-0324.
Well my dear friends, I am out of space, but remember if you need me, call me at 410- 833-9474 or email me at rosapryor@aol.com. UNTIL THE NEXT TIME, I'M MUSICALLY YOURS.