Living with Metastatic Breast Cancer
Shay Sharpe's Story
10/12/2018, 6 a.m.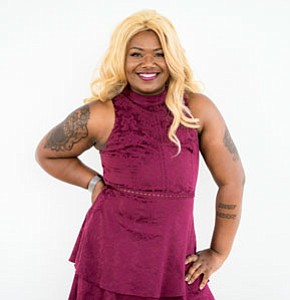 Baltimore native Shay Sharpe recalled the day in 2004 when she made the discovery that would change her life.

"I had worn a new dress, and I was just itching all day," said Sharpe. "In the midst of scratching, I felt a pea-sized spot on my chest. I had just had an exam done, and figured the doctor would have picked it up. I went to the doctor for a Benadryl shot and told him about the spot. He sent me for an ultrasound. My mother had told me about this aunt and that aunt who had cysts in their breasts. I thought the spot was just a cyst.
"The ultrasound was followed by a mammogram. That was the determining factor in my learning that I had Stage Three breast cancer. You just don't think at the age of 26 you should have to worry about breast cancer. Breast cancer was not on my radar."
Now 40, Sharpe is on a mission to ensure that breast cancer is on the radar of every woman— particularly younger women. She has joined Novartis as an Ambassador, as it launches the second phase of Kiss This 4 MBC™ to increase much-needed research funding and support for the Metastatic Breast Cancer (MBC) community.
Shay and the other Ambassadors are using their social media channels and active roles in the breast cancer community to encourage posts for #KissThis4MBC. For each public post using #KissThis4MBC, Novartis will donate $15 to MBC research.
Global healthcare company, Novartis launched Kiss This 4 MBC™ in 2017 to increase much-needed research funding and support for the MBC community.
"I had the opportunity to go to New York as part of the campaign," said Sharpe. "It meant a lot to me because I have worked with so many women who are at Stage 4. Something as simple as reposting a hashtag helps to get the word out. It also helps to raise money to find a cure. I am honored to be a part of it.
"We have to educate, educate, educate. Many women share their stories while reposting, which is awesome. Once we are more educated, we can save more lives."
According to the National Cancer Institute (NIH), cancer can spread regionally, to nearby lymph nodes, tissues or organs. The NIH also pointed out that cancer can spread to distant parts of the body.
When this happens, it is called metastatic cancer. For many types of cancer, it is also called Stage IV (four) cancer. The process by which cancer cells spread to other parts of the body is called metastasis. Some common signs of metastatic cancer include pain and fractures when cancer has spread to the bone. An estimated 155,000 people in the U.S. are living with metastatic breast cancer, for which there is no cure. Despite treatment advancements, MBC continues to take the lives of approximately 113 people in the U.S. every day, and is the leading cause of cancer death in women, ages 20-59 worldwide.

"Right now, I can say that things are going fair," said Sharpe. "In August 2014, ten years after my initial diagnoses, the cancer returned. Even without breast, you can get breast cancer again. I often deal with chronic nausea and dental issues. But despite it all, I have tried to make the best of the hand I was dealt."
In 2011, Sharpe started Shay Sharpe's Pink Wishes, a non-profit organization that educates, advocates, mentors, supports, and grants wishes to children and young women who have been affected by terminal breast cancer.
"I feel like I am a voice for these young women," said Sharpe. "One lady died on yesterday. We try to step in and help. After being diagnosed at Stage Three, there is only one stage left for me. Breast cancer is so often overlooked. People just don't think young women and breast cancer go hand in hand."
Sharpe speaks regularly to sororities, clubs and other groups.
"I tell my story to help women be more proactive about their breast health," said Sharpe. "I want to teach my family and community. I try to make it easier for someone after me. For mothers, daughters, and granddaughters the education needs to be out there. People think if mommy or grandma didn't have it, they won't have it. However, someone has to be the first one."
For more information about the Kiss This 4 MBC campaign visit http://www.kissthis4mbc.com. To learn more about Shay Sharpe's Pink Wishes, visit https://shaysharpespinkwishes.org.