High Schooler Leads Diaper Drive
Over 105,000 diapers, 25,000 wipes collected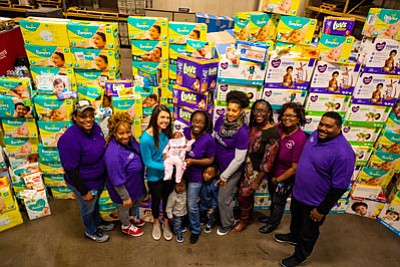 These necessities are needed for infants an estimated 10 times per-day and cost an average $70 to $80 per month. For many poor or low-income families, this expense often poses a financial hardship. These items are diapers. But the efforts of high school student Lauren Eisele, the University of Maryland Medical Center (UMMC) and the University of Maryland School of Social Work, has helped to lighten the load— financial load, that is.
Lauren, UMMC, and the University of Maryland School of Social Work all partnered to organize a drive that collected over 105,000 diapers, and 25,000 wipes. Proctor & Gamble also contributed to these efforts. The diapers and wipes were distributed to community partners on Friday, October 19, 2018 at the University of Maryland Baltimore County, Central Receiving Building located at 1000 Hilltop Circle in Baltimore, Maryland..
Reflecting on a conversation with Bronwyn Mayden, MSW, assistant dean at the University of Maryland School of Social Work, 15-year-old Lauren shared how it all began.
"I wanted to do some volunteer work over the summer and asked Ms. Mayden in the UMB School of Social Work how I could help, and she told me about the urgent need for diapers and explained why," she said. "I was so sad to know that so many families can't afford to buy diapers and can't use food stamps to purchase them."
She added, "After doing some research online, I found out that this is a need all over the world and there is even a Diaper Awareness Week that occurs every September. So I set a goal to collect over 50,000 diapers."
Lauren said she realized more help would be needed.
"After about a month, I realized that I couldn't collect 50,000 all by myself so I asked Dr. Mohan Suntha, president and CEO of UMMC if we could promote a Diaper Drive at UMMC and he agreed. UMMC does so much to help people in the Baltimore community and I hoped that this would be a project that people would care about."
She continued, "Once the flyer went out, diapers started coming in everyday! Employees not only wanted to donate diapers but help in any way they could to help us reach the goal. An employee even asked Proctor and Gamble to donate diapers and got a 'yes'. The company donated 16,000 diapers and 14,000 wipes. In five weeks we brought in over 105,000 diapers and 25,000 wipes. Imagine what we can do with more time!"

According to the University of Maryland School of Social Work, one in three families must make the difficult choice between food and diapers for their baby each day.
"It made me realize how many people need help and that in a small way I could make a difference to families," said Lauren who started the project in June. "I am so grateful for all the support that this project received and hope that many families won't have to worry about this issue for a long while."