Reading Partners Celebrates 20th Year With Outstanding Results In Baltimore
The early literacy nonprofit looks for more community tutors in 2018-19.
9/7/2018, 6 a.m.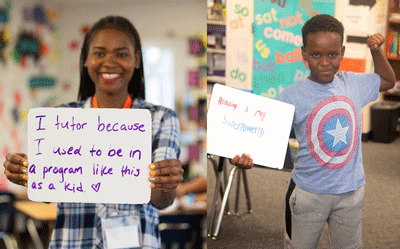 The 2018-19 academic school year marks Reading Partners' 20th anniversary of bringing community volunteers into schools to provide essential one-on-one literacy tutoring that empowers students to succeed in school and beyond. Over the past two decades, the organization has grown from supporting a handful of students at one school into a national literacy nonprofit supporting more than 11,000 students at 200 schools across the United States every year.
"Reading is critical and equitable education needs to be a norm, not a luxury," said Karine Apollon, CEO, Reading Partners. "This is a solvable problem and one that Reading Partners has been successfully tackling for 20 years. Last school year alone, our organization mobilized over 12,000 volunteers in communities across the country to tackle one of the nation's greatest issues, one student at a time, and our personalized literacy approach continues to show strong results"
Student results in 2017-18 continued a strong trend for Reading Partners Baltimore. Every fall, Reading Partners issues student impact reports for the national organization and for each of its 14 respective regions across the country. The impact reports for the 2017-18 school year have recently been posted and are available at: readingpartners.org.
"Results matter," said Jeffrey Zwillenberg, executive director of Reading Partners Baltimore. "Our tutors are committed to our students and volunteer their time and energy to help their student unlock their fullest potential. When we see nearly 90 percent of our youngest students mastering the skills they need to be strong readers, it bodes well for the kind of academic achievement and success they can have later on in school and in life."
Only 20 percent of economically disadvantaged students in the United States are reading proficiently by fourth grade. For students entering fourth grade, it is essential to have made the switch from 'learning to read' to 'reading to learn.' Most subjects, including history, science and math, all require literacy in order to progress. Over the past two decades, Reading Partners has engaged nearly 55,000 community tutors and over 1,300 AmeriCorps members to provide one-on-one literacy tutoring to more than 50,000 students attending over 350 public schools in nearly 75 school districts across the country. All told, Reading Partners volunteers have delivered more than 1.5 million tutoring sessions, helping students grow their reading skills and confidence at a critical stage in their education.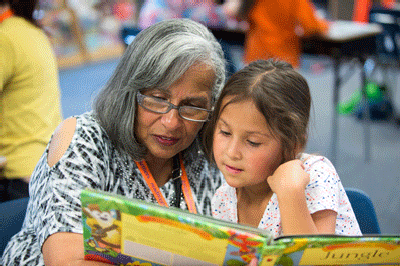 There are nearly nine million low-income K-5 students in the U.S. including thousands in Baltimore, who are not yet reading at grade level. Without developing the literacy skills needed to read at grade level, these children do not have an equitable chance to succeed in school or in life. Each new volunteer that Reading Partners engages helps more students develop the foundational reading skills needed to power their learning in all other subjects in school.
In the 2018-19 school year, Reading Partners aims to match 900 community volunteers with 750 struggling readers in Baltimore. By tutoring a student one-on-one for as little as one hour a week, volunteers can make an impact that can quite literally alter the course of a child's educational experience and life.

"I have volunteered with many organizations throughout my career, but I have been continually most impressed and inspired by Reading Partners, as it is a highly organized and effective program," said a tutor at Francis Scott Key. "Giving a child the gift of reading gives them a running start in life."
The positive student results highlighted in the 2017-18 impact reports are made possible through the generous participation of thousands of community volunteers.
To become a volunteer with Reading Partners, visit: readingpartners.org/volunteer today.