Parents Share 'Recipe For Success' In Raising Collegiate Sons, High Achieving Daughter
Timothy Cox | 9/14/2018, 6 a.m.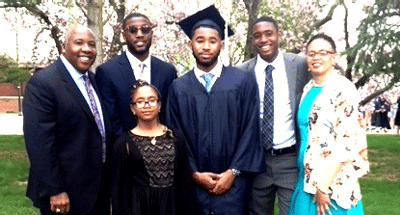 John C. Dove Jr. and his wife Rhonda Caldwell Dove of Anne Arundel County, Maryland, are proud to share their recipe to success while raising three black boys to the ranks of successful, young college men. The Dove family resides in the Baltimore bedroom community of Gambrills.
Oldest son, Julian Dove, 22, is a recent Penn State graduate, majoring in cyber security and information science technology; Jordan Dove, 20, is a junior soccer player at University Maryland Baltimore County (UMBC), studying finance and information science technology. Youngest son, Jared Dove, 18, graduated this year from Severn High School and is currently a first-year basic cadet at the United States Air Force Academy in Colorado Springs, Colorado. He is also on the Academy's soccer team.
Youngest child, Riley Dove, 12, is the "baby sister" in the family and like her older siblings she is also an academic high-achiever. She is currently a 7th grader at Annapolis Area Christian School.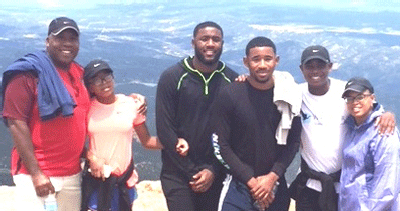 In preparing for her sons' achievement, Mrs. Dove says acknowledgement of family legacy and staying spiritually grounded, has developed a familial competitive aura of high-esteem amongst her young men.
"Kids tend to model what they see and what they hear," said Mrs. Dove, adding that she and her husband of 27 years, John C. Dove Jr., "have always shared stories with our kids about our experiences in school and college— our mistakes, what we learned from those mistakes and our successes. I stress to my kids how their grandmother, Patricia B. Caldwell had to endure as a new teacher when schools were first integrated in Anne Arundel County; how she was bused to high school, attended Bowie Normal School (for blacks) because at the time she was not allowed to attend any college of her choice; and how her brothers and sisters sacrificed and provided her with financial means to attend and complete college.
"I've told them about the importance of their education, and never take it for granted, and to remember their grandmother's journey and how she and others paved the way for them to have an equal education despite their ethnic race. I told them that they were just a generation from the out-house."
Mrs. Dove attended Anne Arundel Community College and Towson University and was a committed stay-at-home mom, until recently. She currently works as an office manager for Infant and Child Loss for the Department of Pediatrics at the University of Maryland, Baltimore.
The Doves stress the importance of a two-parent home and faith-based environment.
"We believe that having a strong father figure for both boys and girls makes a significant difference in how they deal with issues during their childhood," said Mr. Dove, a graduate of both the U.S. Naval Academy and the Sellinger School of Business and Management at Baltimore's Loyola University, Maryland. "I believe my children have always watched how I deal with everything that comes along in life— from handling pressures during work life, to tragedies such as death in our extended family. How I've been able to handle life provides a powerful message for our boys to reflect on when it comes to handling and reacting to their own issues."