Parents Share 'Recipe For Success' In Raising Collegiate Sons, High Achieving Daughter
Timothy Cox | 9/14/2018, 6 a.m.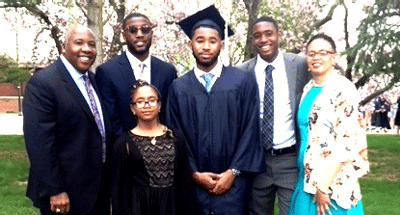 The ex-Marine currently works as a district medical sales manager for Minnesota-based Medtronic Corporation.
Reverend Herbert Watson, the pastor at St. Mark United Methodist Church in Hanover, Md. has nothing but appreciative words for the Dove family who are longtime parishioners.
"It has been one of my great blessings as pastor of St. Mark for 20 years to have John and Rhonda Caldwell Dove and their family, as members. Their oldest son Julian was the first child I baptized upon my new appointment," he said.
"On that same Sunday, John became a member of St. Mark. They and their family continue to be good and faithful members of our congregation," Pastor Watson continued. "And, it's obvious they have raised their children on a foundation of faith, family and friends."
In addition to her mother, Mrs. Dove also credits her father George Caldwell for laying a solid foundation for his grandchildren to emulate.
"I'm very proud of our grandchildren and of the committed work of my daughter and son-in-law," said Mr. Caldwell, 81, and a retiree of General Motors Baltimore division. His wife is a retired Anne Arundel County schoolteacher.
Mr. Dove's parents have also been influential on their grandchildren. John C. Dove Sr. is a retired U.S. Army Warrant Officer and his wife, Barbara Dove, is a retired nurse. The older Doves live in Huntsville, Alabama.