STEM Day Extravaganza At MSU An Immense Success
Demetrius Dillard | 9/21/2018, 6 a.m.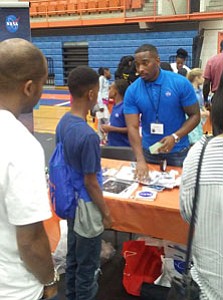 Baltimore City Mayor Catherine Pugh expressed her gratutude for the concerted efforts of Wilson, NASA, Morgan State and the other partner institutions and sponsors that made the STEM extravaganza a success.
Pugh, who is a Morgan State graduate, also presented a proclamation to Wilson and his colleagues and partners recognizing September 8, 2018, as "SEEMA Day STEM Extravaganza" in the City of the Baltimore, urging "all citizens to join in this celebration of educational choices in the STEM field."
Morgan State President David Wilson also spoke to the crowd gathered in Hill Field House before the festivities began. He said 70 percent of Baltimore City students involved in STEM go on to college.
Michael Canady, one of the many parents who attended the event said that STEM had a profound influence on him during his academic career. He played basketball while attending Morgan and now teaches fifth grade science at Moravia Park Elementary.
"I feel it's important for our children, at a young age, to [be] introduced to this kind of stuff," said Canady, who brought his four-year-old daughter, Lauren experience some of the activities.
In years to come, the STEM Day Extravaganza is expected to grow in influence and impact on the Baltimore community.