Deacon Jones Foundation Awards Education Grant To Baltimore City Young Emerging Artists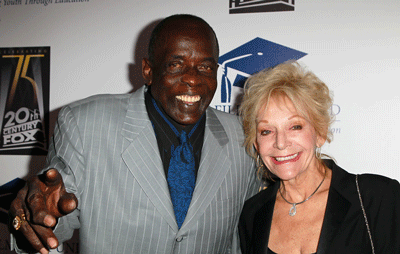 There are numerous reasons why the Deacon Jones Foundation selected Baltimore City for its young emerging artist grant, according to Elizabeth Jones, the foundation's co-founder, president and widow of the former football great.
"The urban culture of the city is so well represented in the many arts and entertainment districts," Jones said. "We found the dedication of city leaders, teachers, administrators and art institutions to be extraordinary and once we spoke to Maryland Art Place (MAP) in depth about their KIDOO (Kid Out of Order) exhibit, we felt it was a perfect fit."
The Deacon Jones Foundation and Maryland Art Place announced that a "Young Emerging Artists Education Grant" has been awarded to Baltimore in support of local programming to engage and enrich the lives of students.
"The importance of helping develop creative minds has long been a passion of mine. It is with these student's gifts to society our communities will become stronger," Jones said.
During the first year of the scholarship program in 2015, eligible students received scholarships in the amounts of $500, $1,500, and $5,000.
The scholarships offer young artists an opportunity to work with an accomplished artist in a mentor format. It also gives talented young people a chance to showcase their work in a professional environment.
"Their works will be available for sale, which is thrilling," Jones said. "We hope those who participate gain knowledge of the art world that they otherwise may not have known until much later in their lives. We hope they value the time with an accomplished artist and learn from his experiences and guidance."
Founded in 1997, The Deacon Jones Foundation's primary objective is to develop leaders and to provide young, talented and intelligent students the tools to become positive role models.
"We are thrilled to have been awarded a Young Emerging Artists Education Grant," said Amy Cavanaugh-Royce, executive director, MAP. "It is with these funds we will develop students into stronger role models as well as help them build on their creative talents."
Jones says that the Deacon Jones Foundation believes that artistic expression of all types is an integral part of a student's education, offering each individual a way of communicating that is a valuable asset throughout their lives and the lives of those they touch.
"Deacon and I started the Deacon Jones Foundation to enrich the lives of our youth. To give opportunity where none existed," Jones said. "As an artist, if this opportunity had presented itself to me in my youth I would have been overwhelmed with excitement.
"To be able to impact the lives of so many young persons is deeply personal and I am looking forward to following the growth of the students and to seeing their work."
The works of the local students will be exhibited during Kid Out of Order (KIDOOO) at MAP on Friday, April 5, 20l9 at 7 p.m.
Guests can browse the artwork of over 250 artists while enjoying an open bar and light fare. Tickets to KIDOOO are $45 at the door. For parents/guardians and youth tickets are $30. Admission is free for all participating artists.
Maryland Art Place is located at 218 West Saratoga Street in the Bromo Tower Arts & Entertainment District.
To learn more about The Deacon Jones Foundation, visit: www.decaonjones.com.