Ex-Officio Mayor Young, RALI Maryland Urge Baltimoreans To Dispose Of Unused Medicines On National Take Back Day
4/25/2019, 3:50 p.m.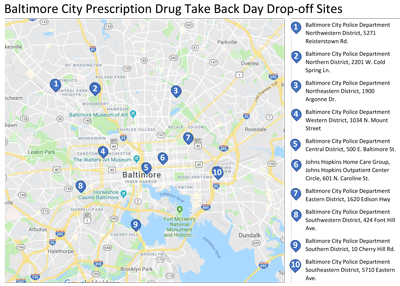 BALTIMORE — Baltimore Ex-Officio Mayor Jack Young, along with RALI Maryland, an organization made up of nearly two dozen local, state and national partners, today urged Baltimoreans to bring their unused medicines to one of the numerous sites across the city during National Prescription Drug Take Back Day on Saturday, April 27.
"National Take Back Day is a chance for each of us to do our part to help end the opioid epidemic that has hit our community so hard," said ex-Officio Mayor Jack Young. "This crisis didn't develop overnight and, while it won't be solved overnight either, every positive action helps. Things that may seem small, like removing unused medications from your medicine cabinet, can lead to big achievements."
The U.S. Drug Enforcement Administration hosts National Prescription Drug Take Back Day twice a year to help communities across the country safely dispose of their unused medications. At a time when individuals and families are seeking ways to properly dispose of their unused opioids, these two dates present an important opportunity to take action. At the last Take Back Day in October, more than 900,000 pounds of unused medicines were collected across the country.

"Like changing batteries in your smoke detectors on Daylight Savings Time, we all should make it a habit to dispose of unused medications twice a year on Take Back Day," said Dickie Altieri, President, Baltimore City Firefighters Local 734. "Firefighters are on the front lines of the epidemic and we see the real impact it has on our city on a daily basis. We are proud of our work to help address the crisis and we are pleased to be a part of what RALI Maryland is doing in our communities."
In 2017, nearly 2,000 Marylanders lost their lives due to an opioid-related overdose. Deaths related to heroin and illicit fentanyl and fentanyl analogues have been on the rise with the crisis impacting people of all ages and demographics. According to the Baltimore City Department of Health, in 2017, there were 761 drug and alcohol-related intoxication deaths in Baltimore City, and 692 of those were opioid-related. Disposal of unused prescription drugs is one way to help curb the opioid epidemic.

"We know that preventing substance misuse before it begins---particularly among young people—is the most cost-effective way to not only reduce substance use, but its associated consequences. An integral part of substance use prevention is having convenient ways of disposing of unused prescription medications. National Take Back Day is a great example of what we can do collectively to protect our communities through safe medical disposal," said General Arthur T. Dean, Chairman and CEO, Community Anti-Drug Coalitions of America (CADCA).
"Safe removal of unused or expired prescription drugs from your home is a critical step in ensuring the safety of your family and community," said Bob Atlas, President & CEO Maryland Hospital Association. "Maryland's hospitals and health systems encourage you to participate in Take Back Day and are committed to helping you safely use, store and dispose of medications in order to prevent accidental overdoses and improper use."