An AMAZON Opportunity For KIPP Baltimore
School Among 100 Nationally To Be Awarded Robotics Grant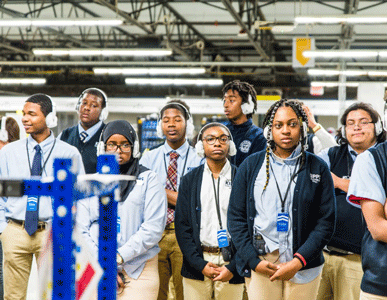 KIPP Baltimore is among 100 schools across 21 states who will receive an Amazon Future Engineer Robotics Grant. As a grant recipient, KIPP Baltimore will receive support to launch FIRST robotics teams, including teacher professional development to learn about robotics; $10,000 from Amazon to expand access to computer science education in their school; and a tour of a local Amazon Fulfillment Center.
"Our students have worked incredibly hard," said Jasmine Bacot, Manager of External Relations for KIPP Baltimore. "We are putting our students in a great position. We are excited about the opportunity this presents to our students."
KIPP, which stands for the Knowledge Is Power Program, is a national non-profit network of college-preparatory, public charter schools serving elementary, middle and high school students.
KIPP Baltimore's mission is to create and operate high-achieving, college preparatory schools in Baltimore City that develop the knowledge, skills, and character strengths necessary for students to succeed throughout their education and in life.
KIPP Baltimore serves more than 1,500 students and 1,000 alumni. KIPP Baltimore operates an elementary school - KIPP Harmony Academy, and a middle school, KIPP Ujima Village Academy, in Northwest Baltimore. Starting in school year 2019-20, the schools will be co-located in the Walbrook building located at 2000 Edgewood Street.
"The Amazon grant will give our students hands-on learning experience," said Bacot. "This will help them in STEM and diversify the industry as we know it."
According to Bacot, the tour of Amazon's Fulfillment Center at 2010 Broening Hwy. in Baltimore, and other aspects of the grant will begin in the fall.

"Our students are from underserved neighborhoods in the Park Heights community," said Bacot. "This grant will allow them to have greater access to computer science coursework and enable them to compete in robotics. We are extremely honored and excited."
The Bureau of Labor Statistics projects that by 2020 there will be 1.4 million computer-science-related jobs available and only 400,000 computer science graduates with the skills to apply for those jobs. Computer science is the fastest-growing profession within the Science, Technology, Engineering and Math (STEM) field, but only 8% ofSTEM graduates earn a computer science degree, with a tiny minority from underprivileged backgrounds. Students from underprivileged backgrounds are eight to 10 times more likely to pursue college degrees in computer science if they have taken AP computer science in high school.
The new robotics-focused program is part of Amazon Future Engineer's commitment to increasing access to computer science education for all students. Launched in November 2018, Amazon Future Engineer is a four-part childhood-to-career program intended to inspire, educate, and prepare children and young adults from underrepresented and underserved communities to pursue careers in computer science.
"Our focus is to make sure more students who live in underrepresented, underserved communities have access to this type of education," said Amazon spokeswoman Allison Flicker. "The four pieces of this effort include kindergarten to eight graders. KIPP Baltimore fits into that first phase. The next phase is the high school level."
Each year, Amazon Future Engineer aims to inspire more than 10 million kids to explore computer science, and provides over 100,000 young people in over 2,000 high schools access to Intro or AP computer science courses, as well as offer guaranteed and paid Amazon internships to gain work experience.