Baltimorean Offers Hope To Families Of Missing Children, Empowers Others To Rise Above Adversity
8/9/2019, 6 a.m.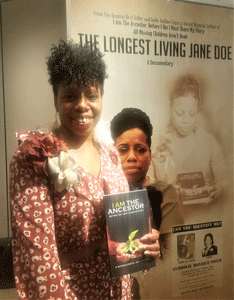 "My message is trying to tell the world that all missing children aren't dead. We're here. We're searching on the opposite end," Smith said. "The National Center for Missing and Exploited Children didn't come around until 1984. What happened to me probably happened to me back in 1965, '66, or '67, so I stand in front of you today, probably either 53, 52,54 (years old)—I don't even know."
Proceeds from her book; funds from speaking engagements, workshops that she facilitates; and sponsors who make contributions directly to the above listed organizations have resulted in Smith raising $60,000 for many charities and causes. The National Center for Missing and Exploited Children was the very first recipient of $5,000.00. Other recipients include: local institutions of higher learning, public schools and various other organizations. Smith has assisted Loving Arms, Inc. Street Outreach to jumpstart their Annual 5k Run/2K Walk for Homeless Youth.
"Per the National Center for Missing and Exploited Children, more than 23,500 runaways reported to the center in 2018, one in seven were likely victims of child sex trafficking," Smith said, explaining that child abduction and human trafficking is occurring in every community in our country. "This is yet another reason why I assist [others] during my personal search for my identity."
Patty Lee, who founded Baltimore-based Angels of Addiction, says that Smith is an unsung hero who supports many organizations and promotes togetherness. Lee started her street outreach effort in memory of her son who died in 2002. She reaches out to drug addicts to help them to secure rehabilitation and treatment. Donations for individuals on the street range from clothing to shampoo. Lee explained that Smith donates items, volunteers, and connects her to helpful organizations.
"She's (Monique's) just been a light to the people in Baltimore," Lee said, while commending Smith. "She helps a lot of organizations. It's all about coming together for the greater good of Baltimore