The Market At Montebello Features Yoga, Wellness, Plant-Based Foods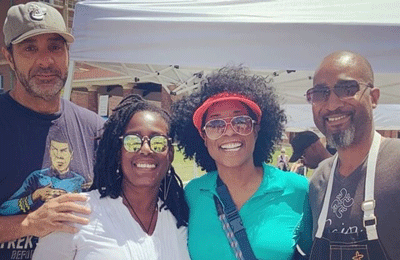 Recent negative comments about Baltimore came from individuals who have never truly experienced all the good that Charm City has to offer, according to Nicole Foster.
"We have experienced love, support and acceptance; and have been inspired by the immense creativity and fortitude of the people in this city," said Foster, the co-founder of Cajou, a plant-based creamery that has a new home in Lake Montebello. "The challenges are great, but instead of complaining about them on the sidelines, I wanted to dig my heels in and help to make a difference in the city. Especially with food."
With Cajou, Foster hopes to address the issue of food justice and community equity. She is instituting a new market that features healthy food, yoga and green initiatives. To that end, she created The Market at Montebello, a monthly community market that will open on the third Saturday of each month.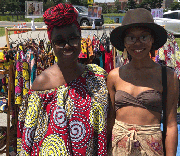 The market will feature "Yoga on the Lake" by Bikram Yoga Wellness Works of Mount Vernon. It will include cooking and composting demonstrations by the Baltimore Compost Collective.
The experience will include a DJ and about 50 makers and creatives on the Baltimore scene including Zeke's Coffee; Love, Puddin; Gingerly Vegan; Blondie's Doughnuts; Orange Scissor Art; Heart of Doughmore; and youth entrepreneurial initiatives Lemontopia and Dinkra Stylez.
"Upon moving to Baltimore and one block from Lake Montebello, my husband and I remarked that the area seemed to offer little in community programming and healthy food options," Foster said. "For example, there were few events in the northeast part of town. Also, after folks walked, ran or biked the lake for exercise, there was nowhere to sit or gather to even buy a bottle of water or a cup of coffee."
Foster and her husband began to speak informally about what may have been missing from the area with neighbors and community leaders. She then leveraged her background in public health, community engagement, food justice and health equity to create the Market at Montebello.
"It was less about potential, and more about equity," Foster said. "Why did people in the neighborhoods have to leave their community to find healthy food or programming?"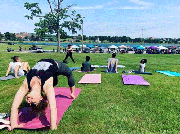 Foster says the Market at Montebello reflects her love for Baltimore.
"The lack of healthy food options was a catalyst. We believe that plant-based foods are necessary to help eradicate the diet-related disease within our community," Foster said. "As a public health lawyer committed to addressing food insecurity and food scarcity, this is my contribution on the community level. While I also identify opportunities to work on a macro level, we are committed to this mission through Cajou."
Community feedback has been incredibly supportive, she said. "My family and I came and fell in love with Baltimore. We thought to ourselves if we don't make changes that will make an impact, who will?" Foster said.
Routinely, Foster says she hears compliments like, 'thank you for doing this' and 'this is what the community needs.'
"We have been told that we chose the perfect location for a market," Foster said. "People have said that the lake has never been used for such an activity. They say they see it growing into a much larger staple for the community."
For more information about Cajou and the Market at Montebello, visit: www.cajoucream.com