BOPA Program Concludes With Youth-Led Mural Creations
Art @ Work is a Work of Art
8/23/2019, 6 a.m.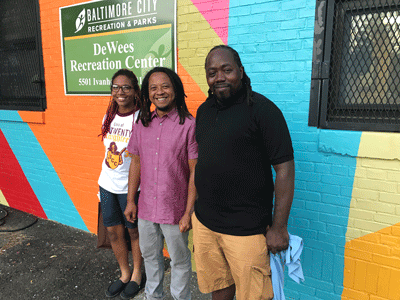 "Today was a very extraordinary event," said Clemons, who attends the Baltimore Academy of Illustration. "The youth really put their best foot forward to do this mural. There were some good times and some challenging times, but we pulled through. They are MVPs— our Most Valuable Painters. They really brought their A-game.
"Not only did the kids excel in painting the mural, but they also did well in creative writing, drawing and color theory. They were a great group."
Lloyd Richard Barnes, III is the DeWees Recreation Center Director.
"This puts a whole new look on the rec center, which was built in 1955," said Barnes. "It's inviting, colorful and joyful to look at. They all were very determined to get the mural done. They came early in the morning and even worked on Code Red days. When you see youth doing that, it really shows you something. And they did it in a month. They put in the effort and it paid off."
Kia Grant said her children Jason, 14, and Peyton, 11, are members of the DeWees Recreation Center.
"Just the fact someone did this was great," said Grant as she looked at the recreation center. "I appreciate the program. It's a great example of teamwork and giving to the community."
Other Art @ Work mural locations include Curtis Bay Elementary/Middle School, 4301 W. Bay Ave. and the Family Dollar, located at 5315 York Road.
For more information about Art @ Work, visit https://www.promotionandarts.org/arts-council/art-work.