Carver Vocational Technical Teacher Starts Campaign Of Positivity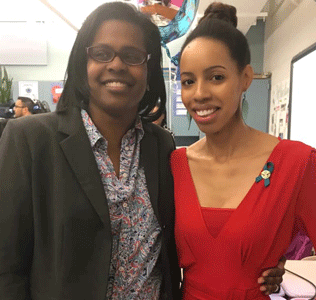 "I shared it with people, and I didn't realize how overwhelming the response was going to be," Hall said. "I was trying to get people to repost it before the start of the school year to show the community that we're standing together."
Hall and others then declared August 19, 2019, as "Team City Day." After that, many inside and outside the district began to share the hashtag on social media.
"There were a lot of people in the community and political leaders who began commenting how they were cheering for that teacher or that person [who posted under the hashtag]," Hall said. "It has been inspiring, and I'm so proud and happy to see that."
Hall says she was inspired by Baltimore City Schools CEO Dr. Sonja Santelises. "I'm so grateful because she empowered me to keep empowering others," Hall said of Santelises. "I appreciate that so much, and we've had people like Marilyn Mosby and Nick Mosby reach out and say they wanted to share this."
"[Hall] did this in response to all of the negative rhetoric and the negative atmosphere about city schools," Santelises said. "A lot of us weren't feeling that way and she was feeling good about the upward trajectory of the schools. She did this as a gift and it was powerful. It was the perfect motivator.

"LaQuisha Hall just brings such a life-given frame to the work of education that really is contagious. Her positive outlook is energizing and what I love about what she's done is that it all grew from authenticity and her experience and commitment."