Scooters Are A Huge Problem For Cities. No One Knows How To Solve It Yet.
Matt McFarland, CNN Business | 8/31/2019, 6 a.m.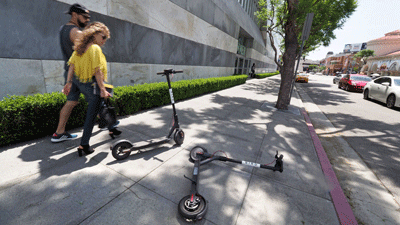 CNN — Stewart Goodwin tried to put a stop to the constant flow of scooters into the plaza he oversees. He spoke to the government and scooter companies, but to no avail.
"We still find scooters in our fountains," Goodwin, executive director of the Indiana War Memorials in Indianapolis, told CNN Business. "We find them in the canal. We find them strewn all over the sidewalks."
In the Wild West of transportation, no one knows what to do about scooters. They appeared suddenly in many cities, triggering complaints of clutter and blocked sidewalks. When ridden, scooters emerged as sidewalk bullies — fast enough to unsettle pedestrians and create safety issues. But force scooters into the streets and they are slow and vulnerable amid two-ton vehicles, not to mention potholes that can swallow small tires.
Now, governments, communities and businesses — even the scooter companies themselves — are playing catchup on finding the right rules for scooters, and how to enforce them. Debates have emerged over when and where scooters should be ridden, and if the form of scooters needs to evolve, with bigger wheels, brighter lights or even a seat.
"It's definitely a learning experience," said Noelle LeVeaux, executive director of Uptown Dallas, a business improvement organization that manages the neighborhood's public spaces. "We don't have a lot of good data. So much is anecdotal, that's the biggest issue."
None of this is what was supposed to happen.
The inconsistent rules of the road
As urban populations swell, cities and startups have been searching for fresh transportation solutions. Scooters are an obvious mode for experimentation: They offer an affordable and quick way to make short trips in congested cities, much like bicycles, but without anyone breaking a sweat.
LeVeaux's group initially welcomed scooter riding on its sidewalks. They seemed like a safe place for new riders to use the scooters, LeVeaux said. But Uptown Dallas soon saw the pedestrian safety issues of sidewalk riding and flipped its position. Now it's reconsidering if scooters, which can reach speeds as fast as 15 mph, should be ridden at night. Atlanta banned nighttime riding this summer following a string of scooter deaths.
Other cities have totally banned scooters, with lingering memories of how Uber stormed onto their streets and created long-lasting challenges for local governments.
Scooter rules vary widely by city, and even by company. You may be able to ride to the art museum or football stadium in one city but not another. In Denver, you can park a Lyft scooter at the pro hockey or baseball stadiums, but not pro football. To park at pro football, you'll need to be on a Bird or Lime scooter.
The restrictions are made by the companies, with input from governments and communities. Companies are quick to restrict sensitive or crowded areas, such as federal government buildings and large event spaces. Cities vary in their requests. Bolt, a scooter company, said Portland, Oregon, gave it a list of 400 areas to restrict.