Forget Resumes And LinkedIn - This Tech Firm Finds Talent In Unexpected Places
Parija Kavilanz, CNN Business | 12/9/2019, 10:13 a.m.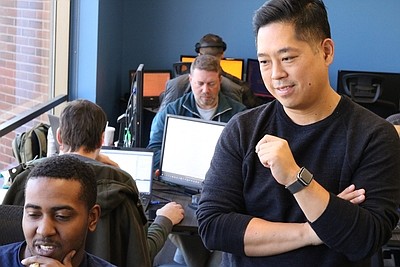 CNN — When Mike Norris graduated from Baltimore's Stevenson University with a degree in business information systems, he thought he'd quickly nab an entry-level tech job. Instead, he found himself working as a security guard patrolling parking lots, earning $7.50 an hour.
"I graduated in 2001, during the dot-com bust. There weren't jobs anywhere for my skills," said Norris. "In the end, I was happy just to have a job."
Today, Norris, now 40, is a senior software engineer earning a six-figure income. He's been able to buy his first car, his first house and even owns a rental property.
Norris credits his success to a five-month training program he participated in at software engineering services firm Catalyte. Based in Baltimore, Catalyte trains people who qualify for its program to become enterprise software developers, then offers them placement in their two-year apprenticeship program. During that time, they work on projects with a number of the company's clients, including Nike, PayPal and Blue Cross Blue Shield.
Norris has now been with Catalyte for 13 years. He's worked on more than a dozen projects with clients, and has even taught new recruits.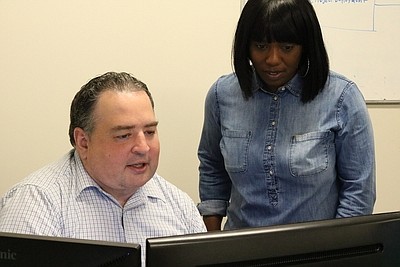 "There are very few places in the world where a person gets an opportunity just based on aptitude," said Norris. "Here is an opportunity that's changing lives."
Finding untapped talent for tech jobs
Catalyte has been identifying, training and hiring untapped talent from underprivileged communities for the past 19 years.
"These are individuals who go from having absolutely no experience with computer software to having some experience," said Michael Rosenbaum, Catalyte's founder. "But what they all show, regardless of background, is innate aptitude and cognitive ability to be great software developers."
Catalyte operates training centers in Baltimore, Boston, Chicago, Denver and Portland, Oregon. It's aiming to create a diverse technology workforce by eliminating the biases that cause employers to overlook talent in underserved communities.
"[These biases] leave a massive amount of people in the United States undervalued by a labor market that relies on resumes," said Rosenbaum, a former Harvard economics and law fellow who worked in President Bill Clinton's Council of Economic Advisors in the late 1990s. "They look for other people who are like them. They don't actually know if that other person is going to be good. Their credentials correlate with socioeconomic backgrounds."
Catalyte recruits its trainees in a variety of ways, including through Craigslist ads, classified ads, job postings and community forums.
"The ads help in drawing a large pool of people, many of whom don't necessarily have a LinkedIn profile," said Catalyte's CEO Jacob Hsu. "It's a spectrum of folks, hackers in the basement, public school teachers, a former Taco Bell worker."
Norris found an ad for Catalyte on a Baltimore job website in 2006. He had been looking to leave his security job. "The ad was for free coding training," he recalled. "And if I passed, I would be hired and paid $10.10 an hour."