Annual Casey Cares Holiday Party For Critically Ill Children And Their Families At Maryland Science Center
12/20/2019, 6 a.m.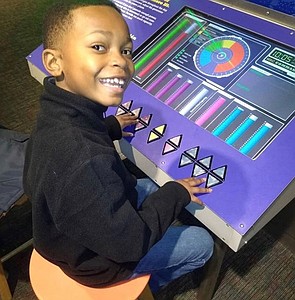 The Maryland Science Center once again hosted the annual holiday party for the Casey Cares Foundation on the morning of Saturday, December 14, 2019. Over 250 people attended the fun-filled event.
The festivities included breakfast, a visit from Santa, live music and an opportunity for families to explore the fascinating exhibits at the aryland Science Center.
"I look forward to coming to the Maryland Science Center every year as it has become a Casey Cares tradition for our families to celebrate the holidays here," said Casey Cares founder and executive director Casey Baynes. "For one morning, the critically ill children in our programs can put aside their doctor visits and hospital visits and enjoy being a kid and explore all the great exhibits at the Maryland Science Center."
The event was generously sponsored by The Maryland Science Center; Nathanson Dental; PetSmart; Tom Reyes and Friends; Spectra by Comcast Spectacor; and Gil and Marianne Kuta.
Founded in 2000, the Casey Cares Foundation is a 501(c)(3) non-profit that provides little moments and lasting memories for families with critically ill children by organizing family-centric events such as tickets to sporting events; concerts and museums; group parties; vacation getaways; birthday surprises and more! The organization serves families in eight states and Washington, D.C. For more information, visit CaseyCares.org.