Destination Crenshaw
How this black city is finding solutions amidst gentrification
12/27/2019, 6 a.m.
Urban renewal projects have ushered in the rise of gentrification in historically black communities across the country. Pushed by private developers, these projects often lead to drastic increases in property taxes and rent, forcing black families from their homes and businesses, which have been staples of the community for decades, surviving recessions and natural disasters, to close. We've seen the effects of cultural erasure and what happens when gentrification infiltrates communities right here in Baltimore with Fells Point. The arrival of gentrifiers can be akin to hitting a refresh button that doesn't acknowledge the long-withstanding history and contributions from generations of residents that built the community into a desirable location.
As these renewal projects have become more prevalent, we have most recently seen it in Chicago, Pittsburgh and right here in Charles Village, Midtown, Hampden, and West Baltimore. Gentrification has infiltrated so many of our communities, and many are beginning to push back, demanding more transparency and inclusion in the decision-making process for the developments planned for their neighborhood. In some cases, they've even disavowed the plans altogether.
The growing power struggle between black communities and developers can be seen as far as Los Angeles, home to the largest African American community west of the Mississippi. Residents are bracing for a similar influx of outside influences and attempts by private developers to take over.
Due in large part to the influence of its black community, Los Angeles continues to be seen as a major cultural center. Among the many projects planned in LA ahead of the 2028 Summer Olympics, is the LA Metropolitan Transportation Authority's controversial $2 billion LAX/Crenshaw metro-line that will finally connect the Los Angeles World Airport to downtown, Hollywood and the beach, but not before cutting right through the heart of the Black community.
The train line was initially planned without enough stations on the world-famous Crenshaw Boulevard, a sign to the black community that their neighborhoods were simply a pass-through. Metro also cut costs by designing over a mile of it at street-level instead of underground or above ground as had been done for other train lines in major commercial corridors. This design required the deforestation of over 400 mature trees and elimination of over 300 street parking spaces, pushing many small black-owned businesses into jeopardy along one of the most important black business corridors on the West Coast.

As a life-long community organizer, Councilmember Marqueece Harris-Dawson held meetings with activists, community advocacy groups, and business owners upon entering office in 2015 to hear their concerns and jointly determine a course of action, eventually leading to the creation of what may be a first-of-its-kind anti-gentrification project, called Destination Crenshaw.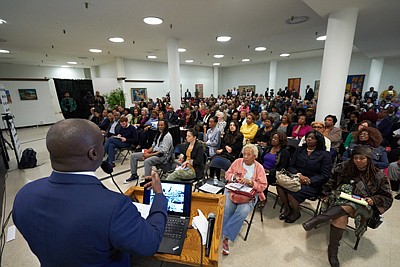 Destination Crenshaw will rise for 1.3-miles, flanking the street level portion of the metro line, displaying over 100 public artworks of black activists, innovators and significant African-American achievements, to serve as a defiant reminder of the black community's history and presence in the city.
The community-based project is seeking to repair and restore the ecosystem of the Crenshaw neighborhood by planting nearly a thousand new trees and over 30,000 new square feet of greenscaping. Councilmember Harris-Dawson enlisted the help of advocates and community ambassadors from Issa Rae to Nipsey Hussle and has brought in starchitect Zena Howard of Perkins & Will, known for her role in designing and stewarding the Smithsonian's National Museum of African American History and Culture.