Eric DeCosta Kicks Off First Season As Ravens GM
Tyler Hamilton | 2/15/2019, 6 a.m.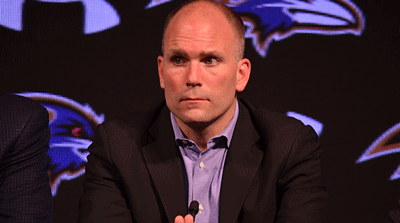 Few teams are as well represented as the Baltimore Ravens at the various colleges' all-star games, which take place leading up to the NFL Draft. It's a habit that was established by Ozzie Newsome, the only other general manager the Ravens have ever had.
Newsome was always one of the few GMs that attended the East-West Shrine Week practices in St. Petersburg, Florida. Current Ravens GM Eric DeCosta was always right by Newsome's side at Shrine week, as well as the Reese's Senior Bowl in Mobile, Alabama. It's only fitting that the torch is now passed on from Newsome to DeCosta.
As a long time assistant for Newsome, DeCosta was a perennial GM candidate for other NFL franchises. DeCosta declined each of the interview opportunities and kept his eyes on the future job of running the Ravens. The future is now for DeCosta.
Newsome's final first round pick, quarterback Lamar Jackson has the arrow pointing up for Baltimore, having led the Ravens on a mid-season turn around resulting in the AFC North division title. DeCosta is now tasked with the burden of unloading former starter Joe Flacco's big contract and adding more weapons for Jackson.
That's why DeCosta was hard at work in St. Petersburg and Mobile getting a first hand look at prospects. This year's draft will be the first one that DeCosta navigates without Newsome being the captain.
DeCosta got his start with the Ravens in 1996. He was a member of a group the organization referred to as the "20-20 club." The reference is to a group of 20-year-old scouts hired for a modest salary of $20,000. The opportunity wasn't as much for the money as it was for the learning experience. Many of the graduates of the group have moved on to roles within the Ravens' personnel department.
After graduating from the 20-20 club, DeCosta worked his way up the ranks and eventually became the heir apparent to Newsome.
What's the biggest lesson DeCosta learned from Newsome?
"Patience. Just don't panic," DeCosta explained when he was asked during a pre-draft press conference in 2017. "Take your time and consider everything— and don't rush the process. Don't create something, let it come to you."
Patience is something that DeCosta exhibited in spades while he waited for his turn to take over as the team's GM. Now, he has his chance to carry on the tradition of excellence his mentor established in Baltimore.