The Battle For Mayor In One Of America's Proudest Black Cities Is Underway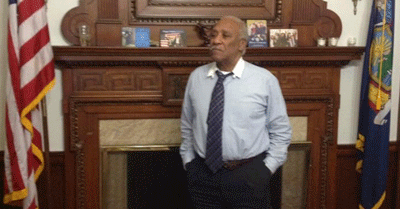 NNPA — Ernest D. Davis served four of the five allowed terms as the mayor of Mount Vernon, N.Y. With 70,000 mostly African American residents, Mount Vernon sits north just of the Bronx and in the same county as Westchester's wealthy elite.
For Davis, an architect by trade, the idea of Mount Vernon taking a backseat to any city or town is quite insulting.
For the 80-year-old Davis, the only thing worse than a negative perception of his beloved city, is a constituent believing that anyone sitting in the city mayor's seat is there simply for political and personal gain and not for the people.
Davis firmly believes that his successor, the city's current mayor, Richard Thomas, is in it for himself and has done much more harm to Mount Vernon than perhaps anyone whose held that office.
So, after reading an NNPA Newswire article that featured Thomas in December, Davis said he began to contemplate a strategy to help unseat the young mayor.
He envisioned working behind the scenes, not running himself.
"I was trying to get other folks that I believe in to run and for different reasons, they refused," said Davis, a North Carolina A&T Graduate who, in the 1970s, became Mount Vernon's first black building commissioner and later Westchester's first black county legislator.
Davis would eventually become Mount Vernon's second African American mayor when he won election for the first time in 1996 – serving three terms before a defeat to Legislator Clinton Young and then a comeback four years afterwards.
Davis was again was unseated in 2016. This time by Thomas, whom the former mayor now says is ruining the city.
And, as he walked through the streets of his beloved city, Davis said the cries for him to run again began to grow. "Let's do it again," people would say.
That coupled with the NNPA Newswire article presented Davis a "Godfather" moment. "Yes, just when I thought I was out, they pull me back in," he said, paraphrasing the famous line from the Oscar-winning classic.
Like the late Marion Barry in Washington, Davis has a reputation throughout Mount Vernon as "The People's Mayor."
He said he's long been a champion of the citizens of Mount Vernon and points to his prior tenures as reasons why residents just may elect him again.
"These are very turbulent times, the hills are steep and the road is rocky," Davis said, with the flare he's demonstrated since first taking the office more than 20 years ago.
"Thomas is destroying the city. His theatrical performances and lies. If you were writing a play, you'd say, I don't want to see this play because it's not real. But it is," Davis said.
He even compared Thomas – who, like Davis, is a Democrat – to President Donald Trump. "Trump said he'd take responsibility for the shutdown and then he blamed the Democrats," Davis said. "That's what Thomas does."
In his interview with NNPA Newswire, Thomas blamed Davis and "The old guard" for the continued crisis the city faces as Mount Vernon again faces bankruptcy and an almost non-existent bond rating.