Baltimore Entrepreneur Nakeia L. Drummond: The Woman At The WELL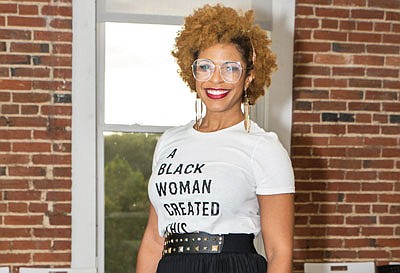 Last year, The 2018 State of Women-Owned Business Report was released. The report was commissioned by American Express with the hope that "the report will continue to serve key players within the women's advocacy arena with data on changing business conditions and will identify opportunities for accelerated growth, as well as acknowledge and celebrate women's progress and identify where they still struggle."
The 2018 State of Women-Owned Businesses report examined the periods 2007, 2012, 2017 and 2018, looking at trends in the number of firms, employment, and revenue by various groupings. The findings were promising, with the report noting, "African American owned businesses represented the highest rate of growth in the number of firms between 2017 and 2018 of any group."
The report also included data that was not so promising. It found that for women of color, average revenue dropped from $84,000 in 2007 to $66,400 in 2018, while for non-minority businesses, revenue rose from $181,000 to $212,300. Moreover, the gap between African American women-owned businesses' average revenue and all women-owned businesses was the greatest.
However, one local minority female entrepreneur is taking an active stance to close this gap and ultimately help to ensure that women of color are getting their fair share of the financial entrepreneurship pie. She is 36-year-old Nakeia L. Drummond, founder and chief strategist of NLD Strategic, a management, consulting firm supporting businesses and organizations that drive social impact.
Last fall, Drummond launched The WELL (The Women Entrepreneur Leadership Lab), a network that will foster collaboration, community and confidence for black woman-owned businesses.
"Our intent is to collect data and best practices that are scalable for black women businesses," said Drummond. "We are hearing that black women start business three to six more times than other groups, but our income earnings are lower. That duality was really intriguing to me. There was this narrative of how black women are living their best life, and are starting businesses, but our annual revenue is considerably lower than that of other groups."
She added, "That makes it harder to grow and increase revenue. I wanted to explore the duality of taking the leap and starting a business, but on the other hand, not making the money. The problem has been explored, but I wanted to explore it from our perspective."
Last October, Drummond held a pre-launch event for The WELL.
"The purpose of this event was to tell people in my network what I was doing," said Drummond. "I had been holding Roundtables over the last two years, and I know how I felt about the disparities. However, I wanted to see if this resonated with other women, and it did. This was a way to take all the work I do, and apply it to area of impact that was relevant to me and that I was passionate about."
The LAB recently wrapped up the three-month Founder's Launch (pilot), and now has 10 Founding Members. According to Drummond, The WELL has started building a social media presence and following on Instagram under their handle @sheswellnetworked.