It's The End Of An Era For The Ravens
Tyler Hamilton | 1/11/2019, 6 a.m.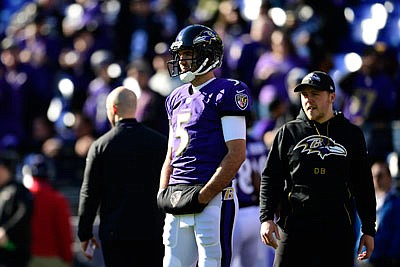 As the final seconds ticked off the clock in the Baltimore Ravens playoff loss to the Los Angeles Chargers, quarterback Joe Flacco stood on the home sideline for the last time at M&T Bank Stadium. After spending all of his 11 NFL seasons in Baltimore, a change is on the horizon.
Flacco's last game action came in week 9 in the Ravens 23 - 16 loss to the Pittsburgh Steelers. A back injury kept Flacco from returning the following week and 2018 first-round pick Lamar Jackson took over, leading Baltimore to an AFC North division title.
Ravens head coach John Harbaugh never wavered in his support for Jackson. He stuck with the rookie when they were down 23 - 3 to the Chargers.
Jackson rewarded Harbaugh by almost pulling off the comeback with two touchdown passes in the fourth quarter making the score 23 - 17.
After the game, Harbaugh signaled the end of an era when asked about Flacco.
"Joe Flacco is going to play really well in this leage. Joe can still play; I think we saw that in the first half of the season," Harbaugh said. "Joe's going to have a market. There's going to be a lot of teams that are going to want Joe."
Flacco's Super Bowl MVP performance in 2012 wasn't lost on Harbaugh. However, it's a business and Flacco's $26.5 million cap number is one the team can't stomach, especially with him not being the starter.
Harbaugh complimented his former starter calling him one of the best to ever wear a Ravens uniform.
"I'll be in Joe's corner wherever he's at. He's special. Joe Flacco is a great talent. He's an even better person. He's the best QB in the history of the Ravens without question," Harbaugh added.
The fans chanted Flacco's name hoping he would come in to lead the Ravens from behind in the Chargers game.
Flacco was flattered, but showed tremendous class saying Harbaugh did the right thing.
"No, you can't even go there man," Flacco said about benching Jackson when the team was down. "I thought Lamar did a great job kg hanging in there and giving us a chance at the end."
With GM Ozzie Newsome retiring, the first order of business for his replacement Eric DeCosta will be finding a new home for Flacco. There will be teams that show interest, but it won't be easy to unload Flacco's husky contract.
The City of Baltimore got more than just a Super Bowl title from Flacco. He was a part of various community outreach activities and became a beloved athlete in the city. He connected with Baltimore but his time there has come to an end.
"I love the people of Baltimore. To be honest, I can't imagine a better 11 years. This place became my home and my children's home," Flacco said. "It's definitely a group of fans and a community that I loved being around and just how many different life changes I went through and how much we won here. I'm not from too far up the road and the people here are a lot like the people I grew up with."