Annual Basketball Showcase Continues To Boost Baltimore's Sports Reputation
Demetrius Dillard | 1/25/2019, 6 a.m.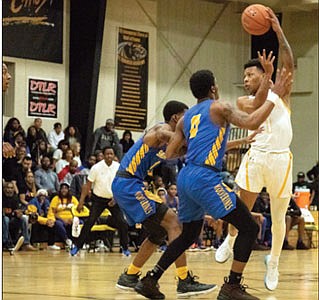 DTLR, one of the nation's most prominent and emerging urban lifestyle brand retailers, kicked the year off with an event that galvanized and unified the sports community in Baltimore City with its third annual Charm City vs. Windy City High School Basketball Showcase at Saint Frances Academy on January 19, 2019.
Beginning in 2017, DTLR executives decided to present a highly anticipated sporting event in the city that not only showcases elite high school basketball talent, but provides an interactive cultural sphere where fashion enthusiasts and sports fans take part in a uniquely special experience.
The yearly event also brings together two towns known for having gritty, unique, dynamic and rich basketball heritages: Baltimore and Chicago. The two major cities also boast burgeoning fashion scenes and have considerably large consumer markets for DTLR.
"With Baltimore and Chicago being good cities about basketball, the thing is that I looked at through the years is Chicago and Baltimore high schools never played each other," event co-founder Jeff Bowden said about of what prompted him to start the showcase.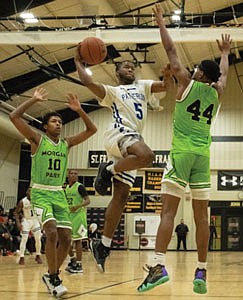 Bowden, executive vice president of People and Culture with DTLR, said he and his colleague, Tremayne Lipscomb, traveled up to the Chicago Elite Classic to invite two storied basketball programs— Simeon Career Academy and Morgan Park High School—down to Baltimore to compete in an intense basketball clash, a function that is quickly becoming one of the biggest sporting spectacles in the Mid-Atlantic region.
"I think it just boosted the reputation and kind of solidified it so to speak," said Lipscomb of the impact the Charm City vs. Windy City showcase has made on Baltimore's sports culture.
"We have stores in Chicago and we have stores in Baltimore—pretty strong markets for the DTLR brand. And just with our core demographic being youth, basketball is real big in both of those cities, so we thought it would be a great thing for Chicago to come to Baltimore to play," added Lipscomb, DTLR's community outreach director and co-organizer of the annual event.
Game 1 of the showcase was a showdown between Baltimore's Patterson High School and Chicago's Morgan Park, which garnered much crowd excitement all throughout.
The game was physical and intense, with dozens of fouls being called by the officials. Morgan Park out rebounded its opponent by a wide margin to hold the lead and controlled the game most of the way by getting multiple second-chance buckets and tough lay-ins at the rim.
However, Patterson rallied back behind a superb performance by senior guard Gerard Mungo, who led the Clippers to a comeback rally as the game was tied, 69-69, at the end of regulation.
In overtime, Morgan Park guard Adam Miller knifed through the defense to make some crucial mid-range jumpers and knocked down consecutive free throws to help the Mustangs seal the win, 88-77.
"Baltimore is like Chicago. It's crazy, you know. A Baltimore versus Chicago game is going to be crazy so you gotta come out here and keep your head on tight," said Miller after the win. The 6-foot-4 left-handed, junior finished with a game-high 30 points. He said he enjoyed playing in the vibrant and high-energy atmosphere.