Ravens Wide Receiver Marquise Brown Gives Back To Mother
Tyler Hamilton | 7/5/2019, 6 a.m.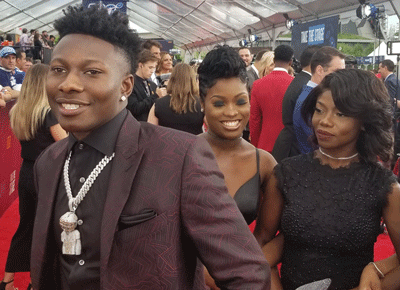 The path to the NFL was a long and hard road for Baltimore Ravens rookie wide receiver Marquise Brown. Through it all, he had his mother guiding him along the way. For that reason, it was easy for Brown to reward his mother, Sharon James with a new car and house recently.
"Since I was seven years old this [is] the moment I been waiting for, bigger than any moment I ever been a part of. Everything I do is for you momma. I love you. You wanted a house and a car and you got it. I got you forever ever," Brown said in a post on Twitter.
The post included a video in which Brown walks his mother through the first floor of a gorgeous house. She pointed to different things and says she likes the house. Brown asked her again if she likes it. She told him again that she liked it to which Brown replied by giving her the keys to the house.
That wasn't the end of the story. Next, he walked her to a door that led to a sparkling new Range Rover that was parked outside. She was speechless!
Brown was only five pounds, six ounces when he was born two weeks premature. The delivery took a toll on his mother, which caused her to in and out of the hospital after giving birth.
Her high-risk pregnancy was exacerbated by high blood pressure and failing kidneys, which led to her being placed on dialysis.
At 5'9" and 168 pounds, Brown was considered small by NFL standards as he went through the draft evaluation process. His game-changing speed forced evaluators to overlook his lack of size. That has always been the case for Brown.
"He was really tiny, always smaller than everyone else. But he moved like lightning once he got that ball," James told ESPN.
That speed was a trademark for Brown while at Chaminade-Madonna College Prep in Hollywood, Florida. His playmaking ability later earned him the nickname Hollywood.
The small high school standout ended up at College of the Canyons in California. His mother didn't want him to go so far away from home at first but she gave him her blessing. She sent Brown money each month to help pay for his rent. He also had a job at Six Flags Magic Mountain in Valencia, California.
Brown went on to have a standout career at Oklahoma, setting himself up to be the first wideout taken in the 2019 NFL Draft. His mother and sisters were with him as his dreams came true by becoming an NFL player.
The days of worrying about money for rent are long gone. Now, Brown can turn the tables and make sure his mother is well off.