P-TECH Carver, IBM Internship Help Students Toward Technology Careers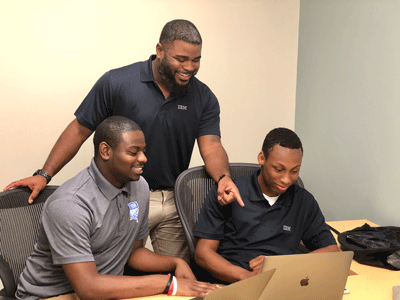 This fall, an estimate of more than 55,000 high school graduates in Maryland face the prospect of entering college or finding career-level work for the first time.
That daunting prospect has often left many wondering just how a student – or parent – is supposed to know where to find jobs or even internships that will help set them up for success in fast-growing fields like technology.
In Baltimore, De'Rell Bonner, an IBM on-site liaison for the P-TECH program at Carver Vocational-Technical High School, is working to help answer that question for interns this summer.
Bonner is responsible for matching local teens with the high-tech summer internships, apprenticeships and jobs of the future.
His job, reportedly one of just a dozen that exists nationwide, is to bridge the gap between classroom and career, providing students with mentors, arranging paid internships, scheduling workplace visits, facilitating practical training on topics like personal finance and counseling students on career goals.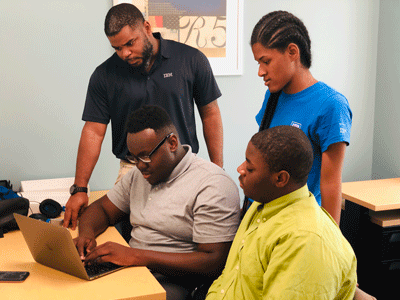 "This summer we have 11 students who are interning at IBM in a wide range of roles across several business units and learning everything from artificial intelligence to our global business sales," Bonner said.
"There are options available to these students, but for all of the students, this is their first professional internship in the tech industry," he said.
The six-week summer program which ends on Aug. 13 is an example of what IBM and P-TECH schools like Carver are all about.
Short for Pathways in Technology Early College High School, the P-TECH program offers a free associate degree in cybersecurity and assurance or computer information systems along with a high school diploma. through a partnership with Baltimore City Community College, Ultimately, the skills taught are designed to be aligned with the jobs offered to students who complete the program which are also key to the model.
Students work with leading professionals, are paired with an industry mentor, participate in paid summer internships, acquire industry certifications, and earn tuition-free associate degrees in STEM fields.
"There are really five key skills that we're working with the students on over the course of the summer to really build and cultivate their competencies," Bonner said.

"We recognize that for many of our students, this is their first professional experience and through partnering with the school, through being able to play a significant role at the school level, then thinking of their workplace learning opportunities, we are able to really ensure that these young people are developing technical competencies," he said.
"Technology is changing every day. So what's important is that we allow the students to really see – based on what they know, or the descriptions that they read – where their interests are," Bonner said.
"Obviously we anticipate that technology changes and that their interests will also change," he said.
With technology-related employment in the state growing – by more than 3,700 new jobs last year alone – the IBM internships at P-TECH Carver counts as crucial to the future of many.
"These young people have to seize the moment – and they are doing exactly that through these internships," Bonner said.
"I start off by teaching them about what's at stake and encouraging them to leverage this opportunity to change the scope of their life," he said.
"Opportunities like these internships don't come often … these young people could conceivably graduate with not only their high school diploma, but a free associate degree, and they will have the decision to go to a four-year university or they can apply for career opportunities," Bonner said.
With hard work, he said it all pays off.
"I think it's really important to help these students make their own future. IBM is committed to ensuring them that we will provide them with the opportunity," Bonner said.