MSU Students Participate In Hands-On Historic Preservation Training Projects
7/26/2019, 6 a.m.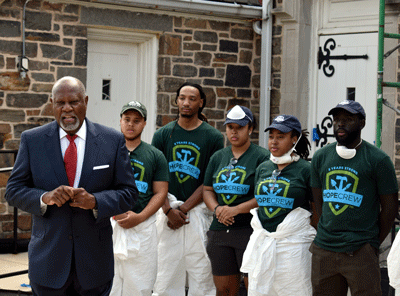 The Touching History: Preservation in Practice program is funded by the NPS, the NTHP,- which receives additional financial support from the Fund II Foundation,-and in-kind support from the ACHP.
"Supporting initiatives that preserve African American history and culture along with creating opportunities for young people of color in diverse STEM-related fields are important parts of our mission as a Foundation," said Linda Wilson, executive director, Fund II Foundation. "This work will enrich communities for many years to come."
As a final task, the students will create a portfolio that will point out the importance of preserving and restoring the historic buildings that are a part of the MSU campus. MSU has 20 structures eligible for listing in the National Register of Historic Places, and in 2016, the NTHP designated MSU one of its National Treasures and is partnering with the school to develop a preservation plan.
"There's no better way to prepare our students for successful careers than to give them hands-on training," said U.S. Senator Chris Van Hollen of Maryland. "This program is a great opportunity for Morgan State students to test their skills, while also providing a crucial service to the University. In the Senate, I will continue working to support programs like this, which give students valuable work experience and promote opportunity at our Historically Black Colleges and Universities."