Local Coffeehouse Offers More Than A 9-to-5 'Grind'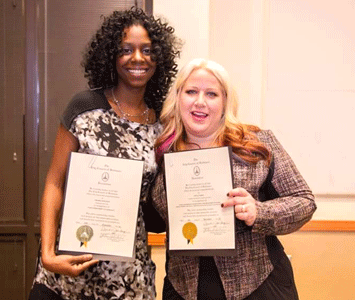 In Baltimore, there is a local coffeehouse that is 'brewing' up much more than the popular hot beverage— CUPS (Creating Unlimited Possibilities) Coffeehouse. Located at 1301 N. Broadway Street, CUPS Coffeehouse works directly with Project I CAN (PIC), a program of Fusion Partnerships, to provide workforce training, and development for youth and young adults ages 16 to 24 living in Baltimore City.

"I joined the company as an assistant manager," said Kenika Walker. "When I found out the company was much more than making coffee, I was on board— especially since it was in my neighborhood. The most rewarding part of being a part of CUPS Coffeehouse is seeing kids grow and illustrate they are so much more than what society has labeled them."
Walker joined CUPS Coffeehouse in July 2012. Today, Walker, who is now 29, co-owns the company along with Holly Shook. She says her co-ownership is another example of the business' ability to provide opportunities.
"For seven months I struggled to find employment after graduating from the University of Maryland Eastern Shore with a Bachelor's Degree in Criminal Justice in 2011," recalled Walker, noting the business' former location near Hollins Market. "Either I was under-qualified or overqualified. I applied to work for CUPS, which was located in my neighborhood at the time. Holly saw that I was committed, and gave me a chance. From there, things just grew. I have been so blessed.
"I didn't even drink coffee when I was hired. But now, I know how to make all kinds of coffee drinks and smoothies, which I also taught and continue to teach the kids how to make. I have been able to grow, mature, and give back in a way I can see."
In addition to coffee, CUPS Coffeehouse's menu also includes espresso bar drinks, tea, soup, and breakfast sandwiches. The company also provides catering services. Walker said that each transaction provides youth with real-world customer service training, and social skill building.
"All of our interns are young," she said. "When the kids leave, they leave with a food manager certification that follows them for five years. We pay for the certification. When some of the kids start, some of them come in loud, but when it comes to customer service, they sound like little mice. They are scared to get it wrong. But by the time they leave here, they can tell me what to do. They say, 'We got this Miss Kenika.' They become such strong leaders."
According to Walker, the company's coffee supplier is Zeke's Coffee a family-owned, small batch coffee roastery located on Harford Road.
"We choose local," said Walker. "We offer over 12 different varieties of coffee. We also offer specialty coffees."
Walker, who also serves as Store Manager, says the company's most popular drinks are 'The Drink Master,' 'Lavender Mocha,' 'Banana Chai,' 'Ace of Spades and 'The Fluffy Bunny.'
Walker says the company's origins began with an assignment that Shook, 43, completed while attending the University of Baltimore (UB).