Unique Challenges Some Fathers Face This Father's Day
Celebrating Fatherhood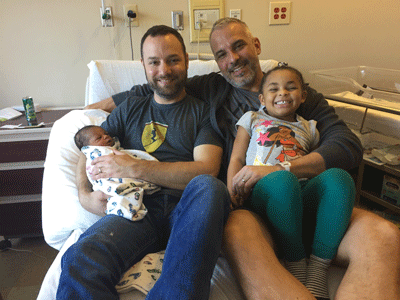 Today, one of the biggest challenges that fathers face is perhaps that the rules for being a dad are completely out of the window.
Bryce Stephens and Boaz Green
"We're still redefining masculinity as a society. It's a process that started in the 60's and has gradually snowballed from there," said James Cobb who blogs at "The Dream Recovery System," which advocates for improved sleep.
For Bryce Stephens and Boaz Green of Washington, D.C., one of their biggest challenges in raising their five-year-old daughter, Nina, and their 18-month-old son, Gavi, was the transition to parenthood when their first child was born.
"Everything in my life changed and needed to be renegotiated," Stephens said. "At the time, I had no appreciation for how hard the every-three-hour feeding cycle would be. The lack of sleep was draining."
Stephens noted that he also needed to reset his own expectations for what he could accomplish on a daily basis, particularly at work.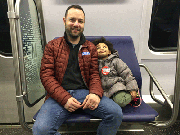 "I needed to pull back. Other parents tell you that 'everything changes,' but I didn't fully appreciate it until it happened to me," Stephens said. "The other thing that has been hard is losing privacy and time alone. I enjoy being with my husband, children and people in general, but managing work, working relationships, and family life is often all-consuming. My husband and I do our best to support one another, but it is always a challenge to make time for one's self."
Another challenge for Stephens and Green is that the two are Caucasian yet their adopted children are African American.
"I want our children to have experiences and interactions that teach them to be empathic and respectful. I want my children to have experiences that help them understand themselves in constructive ways," Stephens said.
"There is so much love, deep love, that comes with parenting. You feel it and give it to your children," he said. "The love comes from everywhere; grandparents, aunts, uncles, cousins, friends and strangers. The day-to-day responsibilities can be exhausting, but the love is always there."
For Cobb, excelling at fatherhood requires a little introspection. He says dads mostly realize that they have to make their own rules and by adapting, they are more likely to have the right rules for just about any situation.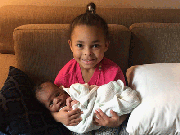 "To do that, ask yourself one question if you're a man and you grew up without a father or a father who was mostly absent: What did you miss the most about his absence? Answer that question well and you have your key," Cobb said. "Conversely, if you did have an active father or another man fulfilling the father role, it's a great thing to ask others for feedback. Lots of people grew up without fathers and there are literally hundreds of reasons big and small why you're better off with a father than you are without."
The key is to love others as best as you can, according to Cobb.

"If you do that, you'll be motivated to try to understand your children and their mom and bring your unique gifts to your relationships and remember that to be a good dad it doesn't take expensive gifts or toys," Cobb said. "Your presence is the greatest gift— something as simple as reading a bedtime story or a weekly phone call if you're not around. Reach out, keep reaching out and never stop loving."