Baltimore State's Attorney Explains New Policy At Community Forum
Demetrius Dillard | 3/8/2019, 6 a.m.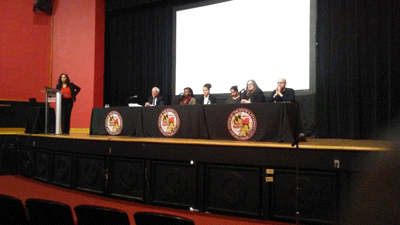 More than half of the Maryland state prison population is comprised of individuals charged with nonviolent drug offenses, according to panelist Caryn York, executive director, Job Opportunities Task Force.
"I am here because we are so reliant on the criminal justice system to address drug use and possession, it's now become a workforce challenge," said York, explaining how communities have suffered hindrances to employment due to being over policed and underserved. "The significance [of today's forum] is that we're talking about these issues in a global manner, it's not so nuanced. We're actually talking about how we can change it and not keep things the same."
Mosby, who assumed office in January 2015 says the primary purpose of the Court in the Community forum was to gain the trust of the community.
"One of the things that we attempt to do is that we have to rebuild the trust of the community. We rely on the community. And so when you have discriminatory enforcement of certain laws, and you have laws that are applicable to white folks that are different from black folks, all that does is exacerbate distrust," Mosby said. "What we're attempting to do is to say 'we have one standard of justice in the city of Baltimore' and if the police department are going to enforce laws discriminatorily, that's something that we, as the State's Attorney's Office, will not be complicit with."