Youth Advocate Program Helps Teens With Education And Employment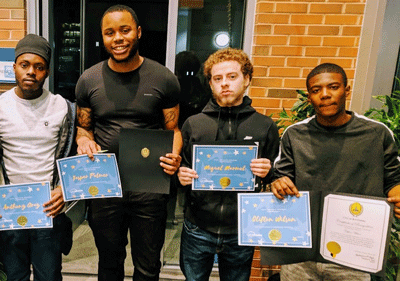 The YAP Supported Work program enables businesses to provide jobs while YAP serves as employer. It also makes it possible for neighborhood businesses like barbershops, startup entrepreneurs, print shops, and others to participate in YAPWORX.
"Through these partnerships, YAP provides individualized, relevant career information and experiential learn-work activities and helps youth invest in their social capital to make real-world-work connections," said Baltimore YAPWORX/Workforce Coordinator RaEmaa Hill.
"Developing these connections is imperative, as it promotes knowledge exchange and spurs the discovery of mutual interests that support communities."
Towson-based cyber security company Reasonable Tech owner James Mitchell, 39, worked for 15 years at Comcast and Verizon before being laid off in 2002.
Building his business was difficult as he struggled with limited income from small contracts while battling a heart condition and raising three children.
"Through those challenges, I learned to persevere," he said.
Today, he has three offices, providing basic IT services, security, routing and switching, and tech training. Mitchell considers it his responsibility to provide opportunities to YAPWORX participants, saying it builds Baltimore City communities from the inside out.
"The first YAPWORX kid who worked for me told me when he met me at my office, he wasn't expecting me, an African-American man, to be the owner He relaxed and wanted to know everything about the business.
"It almost made me tear up. It makes me feel great," Mitchell said. "I showed him around; told him this place was completely empty when I rented it. I told him I wired this place up. He couldn't believe it. He said, 'are you serious?' I told him never let anybody tell you that you can't do something. When YAP Supported Work ends for these kids, if they decide technology is what they want, I'll hire them and pay them as my own employees."