Dr. Michael Lomax And The UNCF Continue To Champion HBCUs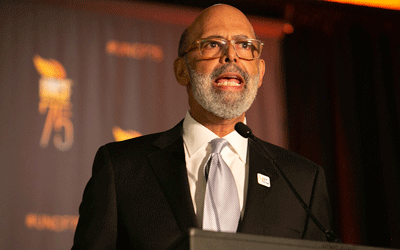 NNPA — For 75 years, the United Negro College Fund has been lighting the way to better futures for young people and leaving little doubt to the importance of its catchy but all-too serious slogan: "A mind is a terrible thing to waste."
And, for more than 14 years, no one has championed the cause of a good education for African Americans and other underserved students better than Dr. Michael Lomax, the president and CEO of UNCF, which counts as the country's largest provider of scholarships and other educational support for students of African descent.
"Many [African American students] are choosing historically Black colleges and universities (HBCUs)," Lomax said this week after hosting a luncheon where he helped to deliver a State of HBCUs address.
"HBCUs have more enrollment today than in the era of segregation. We had a decline in enrollment of about 10 percent because of the Parents Plus loan fiasco in 2012, but enrollments are growing," Lomax said.
A large number of African American millennials are applying to HBCUs but many are finding that they can't afford to attend without the benefit of more scholarships and grants, he said.
"That's why we've called on Congress to double the Pell Grant, not just for HBCUs, but for all private institutions which are endangered species in this country," Lomax said.
Since its founding, UNCF has raised more than $4.8 billion and has helped at least 450,000 students earn degrees at UNCF-member HBCUs.
With 37 member colleges and universities, the UNCF also advocates for the importance of minority education and college readiness.
Lomax pointed out that UNCF institutions and HBCUs remain highly effective, awarding nearly 20 percent of African American baccalaureate degrees.
UNCF awards more than $100 million in scholarships annually and administers more than 400 programs, including scholarship, internship and fellowship, mentoring, summer enrichment, and curriculum and faculty development programs.
Currently, UNCF supports more than 60,000 students at more than 1,100 colleges and universities across the country.
"There are more small white colleges that are being threatened with closure and shutting down and a member at Harvard University has predicted that half of all private colleges will be closed over the next decade," Lomax said.
"These are all part of the higher education landscape in this country. We're going to fight for ours and we're going to join these other institutions who are modestly resourced and we are going to fight," he said.
It's that same spirit that led UNCF and many others to respond when the historically black and all-girls Bennett College was given just 60 days to raise $5 million in an attempt to keep its accreditation.
"There are 95 standards [the Southern Association of Colleges and Schools) hold its institutions to and they include education programs and faculty requirements. Bennet had 94," Lomax said.
"They missed one and the one they missed was the standard on finances and even when they did what they were directed to and out-did it, [the association] still withdrew accreditation," he said.
Lomax continued: