Millennials Must Answer 'How Will You Lead?'
John Semien, Special to the New Tri-State Defender | 3/14/2019, 6 a.m.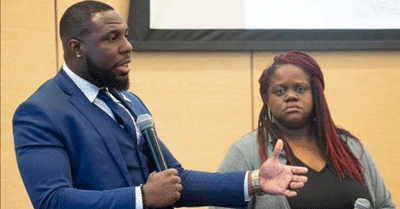 NNPA — "Nobody can do this for us but us."
To Dr. Wes Bellamy, a city councilman from Charlottsville, Va., that statement by Dr. Martin Luther King Jr. is the rendezvous point for picking up where King left off in the fight for social justice for all.
"We are in very serious times," Bellamy said, speaking at the Tennessee Regional Black Millennial Convention's "Black Millennials Unbossed & Unapologetic Summit" at the National Civil Rights Museum.
Calling King "one of the most thought-provoking people to walk the earth," the 32-year-old Bellamy – the youngest council member in Charlottesville's history – drew upon King to put his comments to the group in context.
"Believe in yourself and believe that you are somebody … nobody can do this for us. No document can do this for us…If the Negro is to be freed, he or she must reach down into the inner resources of his own soul and sign with the pen and ink of self-assertive manhood their own emancipation proclamation. Don't let anybody take your manhood or womanhood for that matter. Be proud of your heritage. We don't have anything to be ashamed of."
Bellamy, the summit's keynote speaker, was thrust into the spotlight in 2017 when he led efforts to remove a statue of Confederate General Robert E. Lee from a city park. A deadly encounter involving white supremacist protesters and counter-protesters ensued, with three people killed and more than 30 injured.
The summit in Memphis built upon the first such gathering held in Washington, DC, last year. Bellamy told about 100 attendees that he wanted to get the language right today. …I want to get the language so right that everyone will say, 'yes I'm black and I am proud and beautiful.'"
King, said Bellamy, was "about the message that we are good enough."
Acknowledging that some older folks say millennials "don't want to do nothing," Bellamy said, "we're here, we're leading, we're standing and we're acting because we are good enough. …The old adage 'wait your turn' is one I often have a problem with."
Some considered leaders of the community seem bent on maintaining the status quo to maintain a position or a title, he said. Zeroing in on millennials, Bellamy said, "If we want to break the mold of how leadership should be or how it is conducted, then we have to be the ones who lead.
"How will you lead is now the question. That is a question that only you can answer for yourself."
Bellamy said he is disappointed that Memphis, a predominantly black city that had black leadership for many years, now has someone who "doesn't look like us."
Not calling Mayor Jim Strickland by name, Bellamy said, "I don't know your mayor. I can't say if he's a good man or a bad man. But I know he doesn't look like any of the folks in this room and I wonder why.
"I wonder what will we do, but more importantly what will you do? Is it enough to have leadership that looks like us? Or should the next step be to have them push for policies that change things in our communities?"