Millennials Must Answer 'How Will You Lead?'
John Semien, Special to the New Tri-State Defender | 3/14/2019, 6 a.m.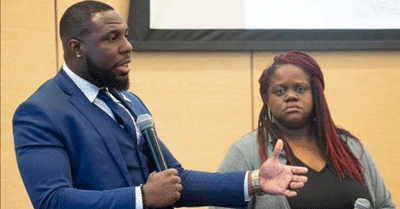 continued — Black leaders in the limelight need help and support from community leaders and organizers to go to the school board and council meetings and do the day-to-day unglamorous work that is necessary for meaningful change, he said. "That kind of stuff is what changes the landscape of our communities."
After Bellamy's address, summit attendees separated for panel discussions that included state Sen. Raumesh Akbari, state Rep. London Lamar, Shelby County Commissioner Tami Sawyer and others.
Topics included "Modern Education and the new Jim Crow," "The Dos and Don'ts of Running for Political Office" and "Sparking Revolutionary Movements Through Intersectional Organizing."
The Equity Alliance in Nashville co-sponsored of the convention. Charlane Oliver said she founded the organization two years ago along with other black women frustrated about blacks not "having a seat at the table" when it comes to making decisions that determine the course of the city.
Challenging the status quo," the group organized and registered over 8,000 voters before the last election, she said.
"But this year we are championing a new cause. We are digging deeper because there are 421,000 Tennesseans who are impacted by not getting their political rights restored," Oliver said," emphasizing that these are ex-felons working and paying their taxes and not allowed to vote.
Oliver asked the conference attendees to support legislation that would make it easier for ex-felons to have their voting rights restored.
Akbari described the convention as awesome.
"We have a lot of young African Americans who want to be engaged in the political process," she said. "I am really happy that they chose Memphis as their first breakout city."