Who Will Police The Baltimore City Police Department?
Regi Taylor | 3/15/2019, 6 a.m.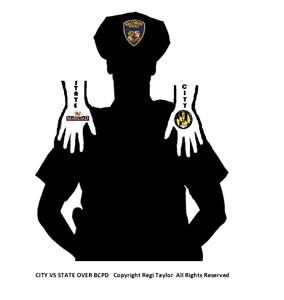 The State of Maryland Public Local Laws Sections 16-4 and 16-7(12), Article II, Section 27 of the Baltimore City Charter, and a 2008 Maryland Court of Appeals' decision states unequivocally that "the City is denied, in the most positive manner, any right to interfere with or control" the Baltimore City Police Department (BPCD).
For more than a century and a half, Baltimore City has had the dubious distinction among Maryland jurisdictions of paying for a police force, in this case over half a billion dollars annually, over which it does not wield ultimate management authority.
The debate goes on over whether or not, why and/or how city control should be reinstated over it's police department and has increased since the municipal crisis that was precipitated by Freddie Gray's death and the Gun Trace Task Force scandal. However, a recent report published by the Abell Foundation, and authored by former Baltimore City Solicitor, George A. Nilson strains credulity.
Nilson advances the argument that the state of Maryland should maintain legal control of BCPD so that the agency can continue to benefit from favorable tort and liability laws that state agencies enjoy, which limit payouts resulting from lawsuits brought by citizens against Baltimore police for maiming, killings and other misdeeds.
"If the Police Department becomes a city agency, it would lose the protection of state sovereign immunity and be exposed to significantly higher damages awards in civil lawsuits," opined Nilson in the Abell Foundation report entitled "The Baltimore Police Department: Understanding Its Status As A State Agency."
Nilson's position mirrors the explanation offered in a 2017 response to an inquiry from Baltimore Delegate Curt Anderson about changing the BCPD back to municipal control. Sandra Benson Branley, Counsel to the General
Assembly, wrote: "Making the BPD a city agency will result in the BPD having only local governmental immunity. Unlike state sovereign immunity, which provides 'total protection' for sate constitutional torts, local governmental immunity does not provide any immunity for state constitutional torts. In addition, the city could become liable for negligent hiring and supervision, which have lower burdens of proof than a federal pattern and practice claim requires."
Translation: The primary objective is not to desist the harassing, maiming and killing of Baltimore citizens by police officers, but, maybe, possibly mitigate how many millions of the taxpayer's dollars City Hall spends to personally indemnify lawless cops every year for "beatdowns" of residents, a designation BCPD accepted when their signatures appeared on the 2016 Department of Justice consent decree.
Really? People are being routinely brutalized by public servants who swore an oath to protect and serve them, and are footing the very substantial bill, while the perpetrators are rarely called to task (two percent of the time according to statistics), and supporters of continued state control are less concerned about loss of life and limb, and more concerned about loss of revenue!
In the five-year period from calendar year 2010 through 2014, the City of Baltimore spent $12 million in police settlement payouts and associated legal costs; an average of $46,153.84 per week for 260 straight weeks, plus hundreds of civilian lives destroyed. To boot, the average cost to treat a gunshot victim, most of whom are uninsured, is $112,000 according to Maryland Shock Trauma physician-in-chief, Dr. Thomas Scalea. Add this amount to every Baltimore police shooting victim's cost to the public.