Proud Mom Watches Bernard Young Take Oath of Office
Just In Time For Mother's Day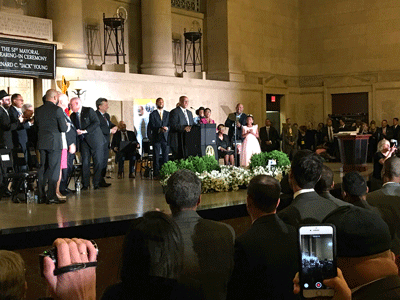 Hundreds packed into the War Memorial Building on N. Gay Street on Thursday, May 9, 2019 to see Bernard C. "Jack" Young take the Oath of Office as the 51st Mayor of Baltimore City. Among them was Ida M. Rather, mother of the city's newest mayor.
"I am so proud of my son," said Rather who witnessed the special moment a few days shy of Mother's Day. "I thank God for all of my children. All of them are my favorites. I thank God for allowing me to see what I have witnessed here today."
Mayor Young highlighted Ms. Rather in his speech.

"My mother, a homemaker who helped to raise ten children in a small East Baltimore rowhouse is here today to witness her middle child… I'm the middle child ya'll…be sworn in as the 51st mayor of Baltimore City," said Young. "It's a moment I'm sure she never dreamt of when I was a young child running around in our East Baltimore neighborhood."
Young's ascension from East Baltimore to the mayor's seat is the story of one's man will to bring about change in his native city through politics. He served from 2010 to 2019 as the President of the Baltimore City Council, and for 14 years prior to that as a District Councilman.
Mayor Young made his mark in city government with a reputation for highly effective constituent services and for a dedication to youth, seniors, education and public safety.
"I am honored to be here with you today," said Mayor Young. "For the past 23 years, I have had the privilege of being a public servant to the people of Baltimore…who are some of the most resilient and determined people around."
Young began leading the city April 1, 2019, when former mayor Catherine Pugh took a leave of absence from the position after what her lawyer Steven Silverman described as health concerns stemming from a bout with pneumonia. Pugh is facing corruption allegations and resigned from the position May 2, 2019 amid a scandal surrounding her self-published book, 'Healthy Holly.'
Second District Councilman Brandon Scott was named the new Baltimore City President Monday, May 6, 2019. Sixth District Councilwoman Sharon Middle is Vice-President of the Batimore City Council.
"To the incredible members of the Baltimore City Council," said an emotional Mayor Young amidst tears, "I've enjoyed working alongside you for many years. I would like to give recognition to our new president Mr. Brandon Scott and Vice President Middleton. Thank you for stepping up and serving with dignity, class and humility during this time of transition."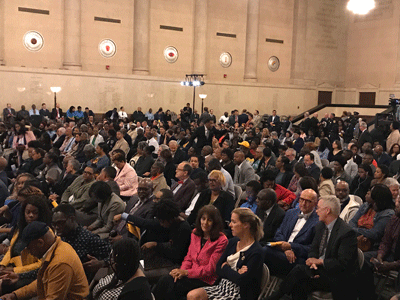 Young also pledged to do his part to help turn around a city plagued with violence – but cautioned that he could not do it alone.

"I can't reduce violent crime by myself, the police commissioner can't reduce it by himself, President Brandon Scott and the City Council can't do it by itself…but it takes all of us," said Mayor Young. "Every last person in this room who are citizens of Baltimore to roll up their sleeves and reduce the crime."