Proud Mom Watches Bernard Young Take Oath of Office
Just In Time For Mother's Day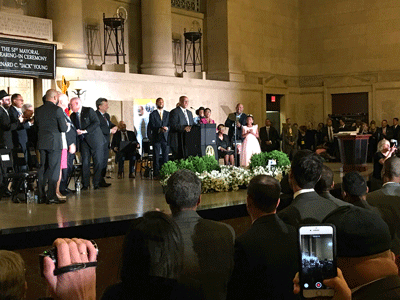 Mayor Young also said the city can no longer be held hostage by violent offenders.

"We need to flip the script and let them know they are not going to take over this city," Mayor Young told the cheering crowd. "They are not going to continue to shoot women and children, because we are fed-up and tired of all the crime happening in the city of Baltimore."
Governor Larry J. Hogan, Jr., Senator Benjamin L. Cardin, Speaker of the House of Delegates Adrienne A. Jones, and former Congressman Kweisi Mfume, were among those who spoke during the Inaugural Ceremony.

"I have the upmost faith in the strength and character of the men and women who call Baltimore home," said Gov. Hogan. "It is because of their resilience I believe the city's future can be better than its present, and higher than its historic past. We must be willing to work together. The fight for Baltimore City's future is a fight worthy fighting. Mayor Young, I look forward to working with you to help revitalize this great city."
In 2016, voters in Baltimore overwhelmingly approved Young's charter amendment – Question E – that established a continuing, non-lapsing Children and Youth Fund to be used exclusively to provide supplemental funding to services for children and youth.

"His number one priority has always been youth engagement," said Senator Cardin referring to Mayor Young. "He knows Baltimore's future is in its youth, and he has made it a top priority. We need good government and transparency in Baltimore City. We are all on Team Baltimore. In this time of great need, Mayor Young has stepped up to lead the city. Batimore is in capable hands. Congratulations Mr. Mayor."
Mayor Young got his start in politics as a former special assistant to then-City Council President Mary Pat Clarke. A strong advocate for neighborhood development, Mayor Young has driven the development of more than 80 affordable housing projects in neighborhoods throughout the city.
Mayor Young and his wife have two adult daughters and three grandchildren. He attends United Baptist Church in East Baltimore, where the Rev. Dr. Carl Solomon is pastor. Dr. Solomon along with Rabbi Chesky Tenenbaum, director of the Jewish Uniformed Service Association of Maryland, prayed during the Inaugural Ceremony.
"Rev. Dr. Solomon and Rabbi Chesky Tenenbaum will continue to evoke more of what we need more than anything else, and that's a divine presence over this city for all the lives, and all of the futures, and all the hopes that have to be lifted," said Mfume.