50 Years Later, Father And Daughter Unite At Surprise Reunion
5/17/2019, 6 a.m.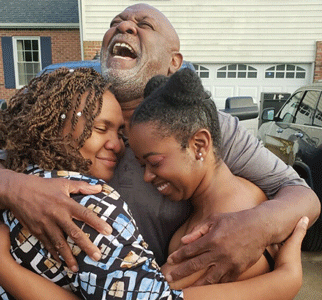 This is Part 2 of a Two-Part Series on the making of a Surprise 50-year Reunion between Arthur Shepard and his daughter Brenda Sawyer Kluttz. The father and daughter found one another through Ancestry.com and Facebook. The two were reunited on Friday, May 10, 2019 during a Surprise Reunion.
During a family gathering on Friday, May 10, 2019 at Toni Saunders' home in Havre de Grace, Maryland, she and other relatives notified her father Arthur Shepard that there was a group out front alleging he had someone with his truck. The group included a lawyer flanked with reporters and several people aiming their cell phone cameras at Shepard.
"I didn't hit nobody," said the 66-year-old Shepard. And when the group showed him some damage on his truck, he replied, "That's always been here. This is a joke, right?"
And then an alleged witness to the 'incident' emerged from the crowd. The witness was someone Shepard had not seen in 50 years…his daughter Brenda Sawyer Kluttz. Shepard's agitation quickly turned to jubilation as he and Sawyer did something both had waited decades to do...hug one another.
"It was humbling," said Sawyer Kluttz. "It was a feeling of completeness."
The alleged incident regarding Shepard's truck was all a ruse conceived by his best friend Gus Ballard to pull off an early surprise visit by Sawyer Kluttz who resides in Warner Robins, Georgia. WMAR-2 News Team reporter Eddie Kadhim posed as the lawyer, while reporters from The Record and The Aegis were also in on the surprise.
"The reunion surpassed anything I could have ever imaged," said Sawyer Kluttz. "The entire weekend was filled with family, laughter, and food. There were lots of hugs and kisses. The weekend was completely filled with love."
The reunion was 50 years in the making. Shepard had not seen his daughter since she was two-days old. Efforts to locate her proved fruitless until Sawyer Kluttz utilized Ancestry to contact family members of Shepard. That contact eventually led to a correspondence with him on Facebook. The two then utilized AncestryDNA to confirm they were father and daughter. The amazing chain of events culminated with the surprise reunion.
"My dad took us all out for breakfast for Mother's Day," said Sawyer Kluttz. "We had such a good time."
Sawyer Kluttz's son Tony Kluttz traveled with her to Maryland for the surprise reunion. They got the opportunity to meet Shepard's mother Dorothy Reese for the first time.
"I called her grandma," recalled Sawyer Kluttz. "My son got the opportunity to meet his great-grandmother. It was wonderful. She was so overjoyed. All weekend, she got emotional and kept saying, 'thank you Lord.'"
Sawyer Kluttz also praised the efforts of her sister Toni Saunders.
"Toni managed to pull everyone in and swore everyone to secrecy," said Sawyer Kluttz who is a teacher. "She pulled all of it off without a hitch. It was perfect."
Shepard, who noted he "couldn't take any more surprises," talked about the surprise of his life.
"They said I had been involved in a hit and run," said Shepard. "I knew I hadn't been involved in a hit and run, but had to keep my composure because my grandkids were out there. I didn't want to make a scene."